Miners deserve their fate.
When I caught Sabbat Saint, with his hand in the cookie jar, I just couldn't allow him to steal my ore. He was executed, in accordance with the law — my law.
Every now and again, crabs try to flex. They claim to have powerful friends in Highsec, proudly presenting someone else's elite credentials.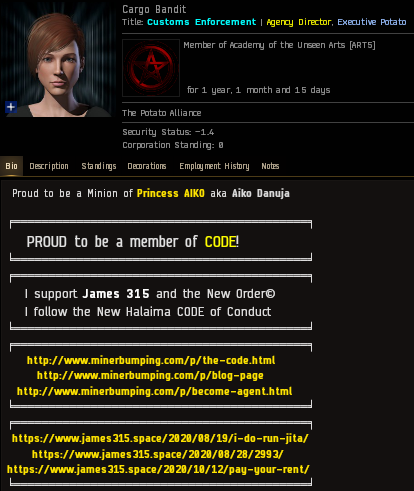 Sabbat considered himself to be above the law, simply because he joined a Potato Alliance, which literally anyone can join.

Sabbat felt he was negotiating from a position of strength. Therefore, when we confronted him about his use of foul language in a family game, he paid no heed.
Little did he realize, Executive Potato Kalessi Kashada was watching.

Are PvE bears exempt from the law, simply because they know a ganker in Jita?
Sabbat Saint > i dont mine shit i dont mine…an ore in an iki who the fuck mines in an iki. i love that you call me a miner. what is that i dont know how to shoot rocks
Sabbat Saint > Aiko Danuja like my balls fuck yeah haha
Sabbat Saint > i love that your clit is the size of a button its a little rub me nub and that your a nice and quick shot no one wants to waste all day
Aiko Danuja > What does that even mean?
Zharayah Shardani > i think it means one pump chump
Sabbat Saint > and my balls are presented for you to have a lick. hard day of work
Miners-are-second-class citizen > very abusive sub species

I took out my pink highlighter…
…because that is no way to address a Princess!

This morning, Sabbat had an appointment with Human Resources.

The CEO made an executive decision.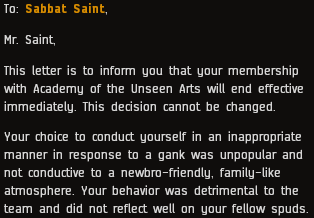 Sabbat is a rotten potato.

He should watch his tone, when speaking with a Lady.

I'm ready for his apology, and 315 million isk.
This incident sparked renewed interest in the CODE, amongst various miners who try to relax within the potato patch. Concerns about being ganked led naturally to discussion of James 315, and his vision for the future of Highsec.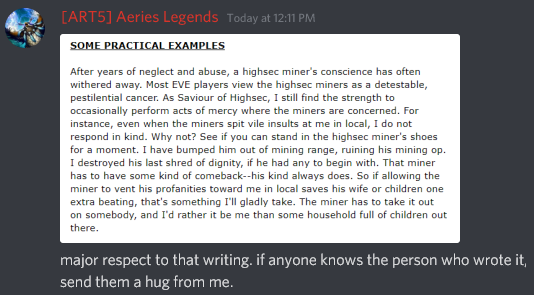 I certainly will!