People are starting to notice.

I'm minerjamming.
It's pretty great.
I'm like a sexy James 315, in Tama!
Same blue background, with a super cute face!
Xaxaxa)
Did you know I multibox multiple alpha accounts?
Oh ho ho.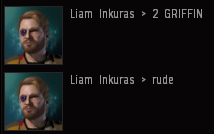 This is the best.
Ain't never gonna stop!
Miner Durishaka couldn't get enough.

He didn't know what to think.
So he checked me out on Google.
Cheers!
That's right!
That's right!