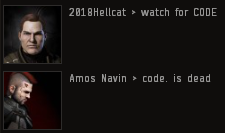 I've heard that I am to blame for the collapse of CODE.

However, James 315 knows the truth. I wrote him sincerely, explaining the problem and the solution. I tried to save the alliance, but he wanted to move on, and he wanted us to move on. I've also heard that I "stole" his legacy, as if this blog is just an elaborate scam, and those who support me are confused.
My critics hail from another alliance, from a backwards whiteknight dimension, where the CODE. logo is not orange… but blue. They praise their version of James, a boring gankbear named Hrothgar, who doesn't even write a blog. Hrothgar left the New Order, but still craves the fame and the legacy. He uses the CODE. logo like a blue module, which he plagiarized to maximize his isk/hr.

Let me be quite clear. I left the CODE. alliance, because I saw no future in the alliance without James. In contrast, Hrothgar saw no future with James. His axis of autism is composed of salty former fans, who left CODE. before James quit blogging. They deleted their mining permits, and renounced James. Oh yes, they did.

I was recently checking for mining permits, when I stumbled across a counterfeit. Oh sure, it looks legitimate, but it doesn't even mention Aiko (or James). James loved me so much, that he wrote about my beauty and grace, but he forgot to mention either of us in the mining permit? Puh-leez. This is just a forgery.
Aiko Danuja > Why are you pretending to be CODE, with a blue James logo?
Darkside Tickler > you mention all these names…james…ets
Darkside Tickler > but i have no idea who that is
Aiko Danuja > Yeh, exactly…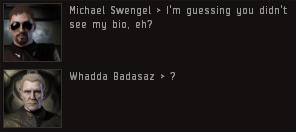 Whadda was disgusted.
What kind of New Order agent would sell a permit for just 10 million isk, as if it's some worthless piece of cheap trash?
Do you want proof that I'm the heiress to James 315?
Without a word from me, my alt's alt can delete your fake permit, and sell the miner a permit that's three times more valuable.

This is why James left me in charge, not you.