I'm the best.
I can shoot battlecruisers from my eyeballs.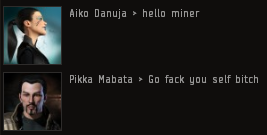 Not surprisingly, I'm invincible, always!

For every winner, there is an equal and opposite loser.
Inpendius > these motherfuckers just attacked me in hisec for no fkn reason
Inpendius > FUCK YOU
Inpendius > I WASN'T RUNNING A MISSION, I WAS FLYING BACK TO MY HOME BASE, THEY JUMPED ME AT THE GATE IN OSMON
Kristine K0chanski > should use the jump drive thats what its for
Inpendius > STFU dumbass becuase im reporting them and this will go to court for real life consequences
When Inpendius discovered that Highsec is the arena of elite PvP, he ran away to nullsec, where he planned to crab in peace.

The thing about the CODE. which miners rarely understand, is we all came out of lowsec, nullsec, and various wormholes. In fact, we are still there.

Shaftmaster Mastershafts needs no introduction, unless you are a pleb who has no idea who he is. Let's just say that a mysterious line of communication stretches through Syndicate, transmitted via the secure comms of Northern Coalition, and directly into the blog of me, Princess Aiko, the Angel of Delve.
Like most notaminers, Inpendius found all of this to be very amusing, and he vowed a sexual revenge. Furthermore, he felt quite calm.
Inpendius knew just what to say.

After some thought, he decided to add a little extra.

What is with miners and cancer?