I don't actually have to be in house, or in system, but you better watch out. I might not even look like me, ya know? I could be anywhere, or anyone, anytime at all. Sometimes people call me James 315, and I don't disagree. I honestly can't tell the difference. We are both sexy, smart, and utterly invincible.
THUND3RST0RM > Hello
Aiko Danuja > hi
THUND3RST0RM > I know that our Corps aren't exactly friends, but I was wondering something.. You know BLACKFLAG. right?
Aiko Danuja > of course
I totally can't keep track of all the emails, Discord messages, EVEmails, voicemails, Tweets, Slacks, forum @s, and private convos. I used to be a secretary, and now I need one. Regardless, THUND3RST0RM seemed like a nice young man, although it was alarming to hear that he doesn't view me as a friend. Apparently, he knows some of my very good friends, who fly the BLACKFLAG.
THUND3RST0RM > Well, they will be attacking a station of our in 10 hours. Is there any chance you, or a few pilots from your corp would want to help us defend?
Aiko Danuja > you must pay in advance
THUND3RST0RM > How much
Aiko Danuja > 500 million
I like to help.
THUND3RST0RM > Thanks, but I think we will fight on our own
Aiko Danuja > Very well.
THUND3RST0RM > good day
I figured that was it, and resumed ganking Ventures. However, as the hours ticked by, he decided to renegotiate with his not a friend.
It seemed like a good deal.
Of course, I accepted.
I wonder if James wrote the CODE just for me. By the way, grumpy bears like to OCD, and try to tell me there is a difference between the Code of Halaima and the CODE. alliance. These same crabs pretend there is some fundamental distinction between the New Order and the alliance itself. As your official Saviourette, I beg to differ. It's all the same. One law, one people, one fleet. We stand united, always!

When the time came, I was hunting battleships, so I couldn't be bothered to divert my fleet halfway across the galaxy. I assumed my !friend would understand, but I kindly offered to lead his fleet via private convo. I wouldn't want them to be demoralized, so I didn't inform him the cavalry was never coming.
As FC, I ordered a direct frontal assault.
It seemed like a good plan, right?
Unfortunately, my not a friend was losing faith in me.
This was his undoing.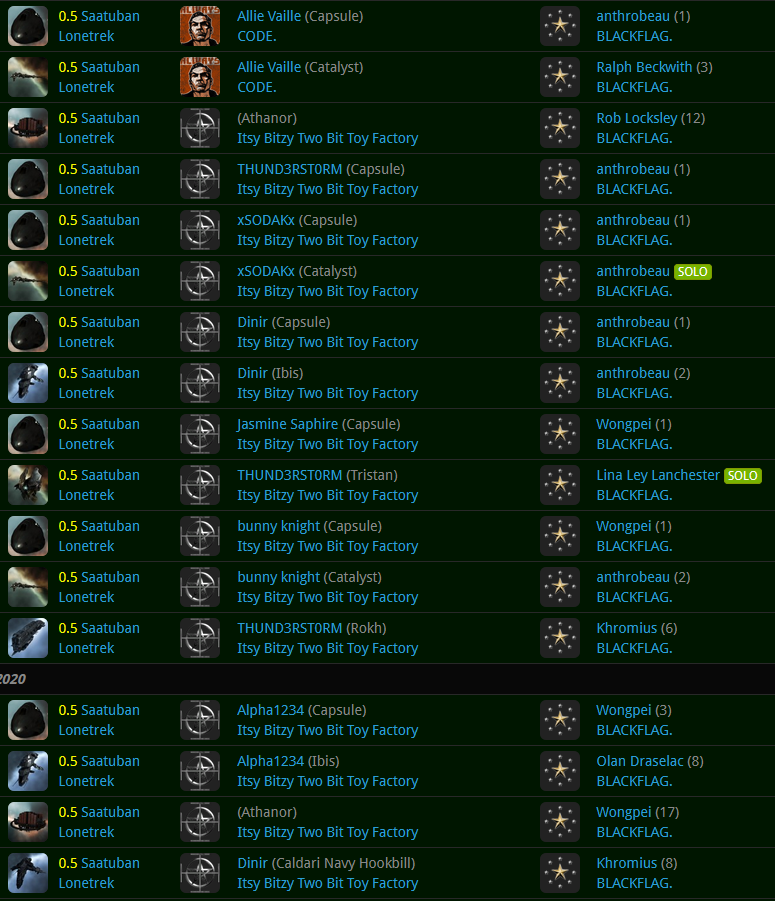 Fortunately, Allie Vaille believes in me.
As for my antifriend, he thinks I'm going to a non-existent hell.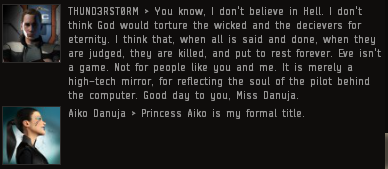 Apparently, he also likes me a bit.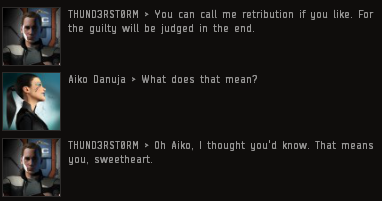 He thinks I have a cute laugh…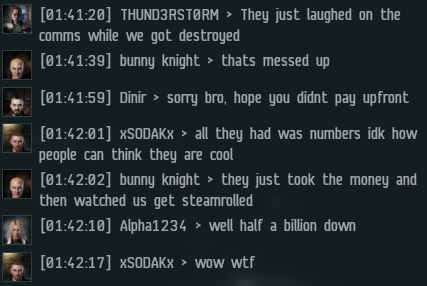 …but his friends want to bash my knee caps.
They don't approve of our special relationship.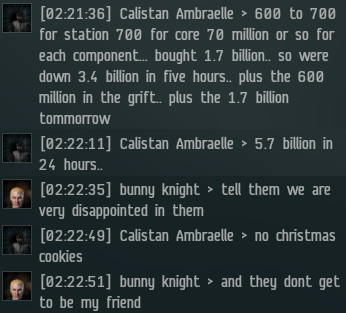 However, I have actual friends.