Praise James!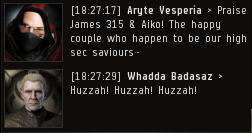 Oh James, I love you so much. All those years I worked as your personal secretary, skittering between office and armory, steering a wide berth around the rowdy barracks, and barely finding time to grab a cucumber from the mess. I didn't do it for the money, or the fame, but just for you, my Saviour. Those bitter jellybears said I was sleeping my way to the top, but you know how chaste I am. All I wanted was to do my duty, unto my Lord. Even a Princess must serve the New Order, to the best of her ability, such is the law!
I always, always, knew I was destined to inherit Amarr, along with the Minmatar and Ammatar vassaldoms, plus the entirety of the Khanid March, with the Bleak and the Delvian slums, and all those lonely stars which have no name. I was content with that, so when you asked me to be your little Princess, I really had no desire to remain far from home. However, I kind of like being the one true Saviourette of the Order. Of course, the Great Khan Garkeh was delighted to learn his daughter has inherited the Caldari State, the Gallente Federation, and the endless Northern Waste.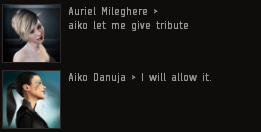 It's been so long since I've been able to go home, to Agil III. I miss the sight of a magnetostorm, as it ripples through the methane clouds. I yearn for my hundred ton robotank, with those beautiful particle projection cannons. I want to bring hot cranberry vodka for the infantry, and help them cook Mindflood in the ruins of some old shrine. Living amongst the greedy northern barbarians has really been quite a culture shock, but I confess, you saved me from a dismal fate. Without you, I would have wound up commanding some garrison on the Kamela front, where I might have died of boredom.
Killing people, just to drink their brain goo, that's normal for us southern girls. They call us blood raiders, but let's be real, I'm just a simple space vampire. As you might imagine, the Caldari cult of Halaima was utterly alien to me. Bumping people for money? What?! Why don't we just kill them all? If they pay enough, we can crucify them on a cross of gold! My father despised Gallente terrorists, but you had the divine wisdom to turn Catalysts and Talosi into the very building blocks of our mighty civilization. I don't know how you did it, but you did, and this is why I praise your name every 15 minutes of each particular day — as required by the sacred laws of the Halama.

Recently, I was super annoyed. This catty miner had the nerve to say I should be killing more miners! Oh really?! I told my friends about this, and we all had a good laugh. Then Zigam and Julian made a little video, which definitely cheered me up. Julian even has his own Youtube channel, and I can tell he doesn't like carebear plebs!

Anyways, ever since you died, I've been praying for a miracle. I'm sure you will undock another Ishtar. Right? We can hunt Orcas together, like old times, and maybe even save the Delve (again)! However, I don't suppose that's likely to happen. So I'll keep trying to kill these miners, as best I can, and hope to see you soon.

She could never know what it's like
My blood, like winter, freezes just like ice
And there's a cold, lonely light that shines from me
And did you think this girl could never win?
Well look at me, I'm a-coming back again

Once I never coulda hoped to win
You started down the road, leaving me here
The threats she made were meant to cut me down
And if our love was just a circus, you'd be a clown by now
You know I'm still standing better than I ever did
So don't just fade away

Don't you know I'm still standing better than I ever did?
Looking like a true survivor, feeling like a true princess
And I'm still standing after all this time
I'm still standing (yeah, yeah, yeah)
I'm still standing (yeah, yeah, yeah)
I'm still standing (yeah, yeah, yeah)
I'm still standing (yeah, yeah, yeah)
I'm still standing (yeah, yeah, yeah)
I'm still standing

Praise James, forever and ever, and pray he will grant upon us his divine blessing, so that we might obliterate our enemies with an endless barrage from which they shalt know our mercy! We must destroy their fleets, and then Khanid will show them the glorious strength of our Army!