If you need isk, just ask a miner!
I've heard that Russians have the best insults!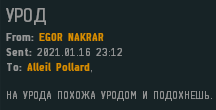 IT LOOKS LIKE A FREAK AND YOU JUST GET BETTER!
When did the internet reach Anatolia?
FUCK MOM
Krig is still getting fanmail from that cursing Rattlesnake.
Be well!
Calm down miner!
Hahaha!
Today is the day!
What?
The MAFIA TRIBUNAL is coming for me!
LoL @ Khromius, if you are reading this, let's just be friends!
I just keep winning, daily!
I miss you James!
I love the CODE. and I'm glad I moved it to Safety.