Today, we dunked freighters in Uedama, as antigankers spectated.
Most NPCs appear surprised when they enter.
They are perpetually confused.
Did they just jump into a warzone?

Some suspect multiboxing.

Our fleets are rather large.
Miners are so easy to please.

A few bears notice something amiss.

Something seems really wrong in Uedama.

There's definitely something wrong with the antigank intel channel.
The antigankers just want us to leave.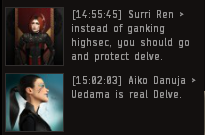 Why would I attack my own rorquals?