Antigankers are the most toxic people in the game.

High Side is a typical 'white knight'. If I acted like him, antigankers would cry foul, claiming the moral high ground. However, you can see for yourself. Gankers are classy cats, and antigankers are bitterbear losers.
High Side's alt is KOCMO EHOT.
They are upset, because I ganked their antiganking Talos.
Naturally, incels are enraged by my mouth.
High Side is crushing on me, and wants to pull my ponytail.
Aiko Danuja sucks dick, very cheap.
She's a whore like her mother,
and she loves when you piss in her mouth.
He's not wrong. I love a good time!
SLUT
SUCKING PENIS

KOCMO High Side is a bad man, in real life…
… so I sent my regards.
You might not like me, but I'm kinda like a big deal, ya know?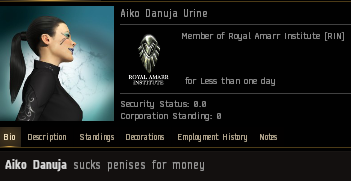 I get paid to do what I love.
I'm a Princess!
High Side intends to continue with his 'campaign'.
It is obvious who hasn't been getting any blowjobs.
Like, real talk, I only date gankers.