Highsec miners want to impress me.
I don't mind the attention.
I'm just the best.
Golly gee…
I sure do love helping miners.

I've made a lot of friends.

They give me lots of gifts.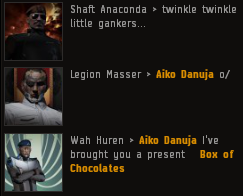 I deserve it!

I'm such a special little lady.
Just right click my name, and select give money.
I'll keep you safe…
…and introduce you to my pals.
I dunno where they all came from…
…but they sure are great.

I'm the heroin of Highsec!