Listening to: Tyrant
Previously, in the Princess Diaries… Sievert Solutions was a salty antiganker crybaby Mormon. He took to the forums, warning New Eden about the rise of a powerful new force. Whilst other antigankers celebrated the slow decline of the CODE. alliance, Sievert knew that something wicked this way comes.
Everyone concluded this was just the ranting of a Highsec carebear, but deep in the subterranean archives of the New Order Historical Origin Society (NOHOS), the story of Kelroth is preserved as a pivotal moment in galactic history.

The New Year began with dire omens, for the Jamespocalypse was nigh. Elite Amarr ganker Lovin Jr was surprised to find an Enforcer loaded with skill injectors, and even more surprised to encounter the same goofus in a Magnate full of skill injectors. Shortly thereafter, a young Princess Aiko was contacted by Kelroth, who invited her to Teamspeak where they plotted against Lovin Jr.

Surprise plot twist! Aiko and Lovin are IRL friends.
Shortly thereafter, Aiko arranged an in-game meeting with Kelroth.
Kelroth bought a mining permit.
Sievert watched in horror, as the spider queen spun her web.
Kelroth gave Aiko another billion, plus a fifteen billion advance on Lovin's bounty.
Sievert couldn't believe Aiko's dank tics.
Meanwhile, Kelroth was pleased to receive VIP status.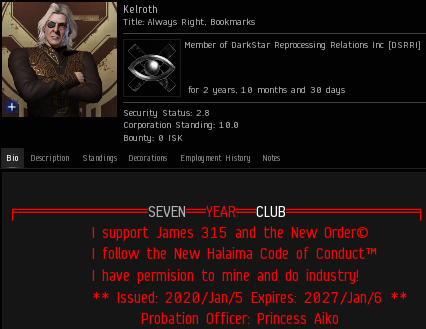 Aiko decided it was time to send an agent to Amarr.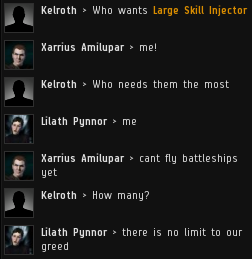 Her scout reported that Kelroth was handing out Large Skill Injectors.
It was time to summon the girls!
To be continued…