On the eastern front, our elite taskforce strikes against illegal PAPI freighters, off the coast of Beeitnamese Dumbkirk. Spaceborne Bu-87 Catalysts, the secret weapon of the New Order, surface from the depths of the abyss to obliterate hapless nullbears. We then sink beneath gravitational waves, awaiting the next convoy. As Mitt desires, the Gallente ice interdiction will continue indefinitely. No refunds.

The People's Democratic Republic of Highsec has a special relationship with our renters in the Delve, and we have graciously offered assistance during their Sacred Reconquista. Best wishes to the Swarm, as they help Testbot refugees reach the Dronelands.

In the west, there is nothing new to report. Coach Subway continues to fail daily, and nobody is surprised by his bad attitude, atrocious singing, and infinite incompetence. Since Subway claims to be an elite Pro Guides coach, he was presumably delighted to find himself decced by Pro Guides Galactic Champions. Yes, that's right. After all his contributions to CCP, Subway won a FREE wardec coaching session.
The war went well enough, but Pro Guides got bored after Subway abandoned his FreeEve movement. Yes, like Vily, he fled in disgrace. Of course, no actual human wants to waste time bashing a structure, when they could be updating Windows or staring at the wall. Consequently, the war ended in stalemate.
At this point, the plot twisted. One of Coach's alts was promoted to CEO, and sought revenge, declaring war on the Galactic Champions. What? Why? Misclick? This was a challenge which could not be ignored, and the professionals went to work.
Afterward, Coach got a customized victory email.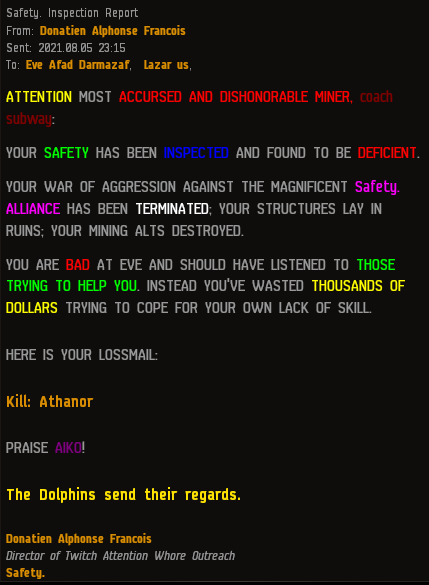 He also received a FREE inspirational poster.
Don't fuck with Dolphin Don.