Chillso Ace isn't very chill.

He explained why.

He doesn't have to be.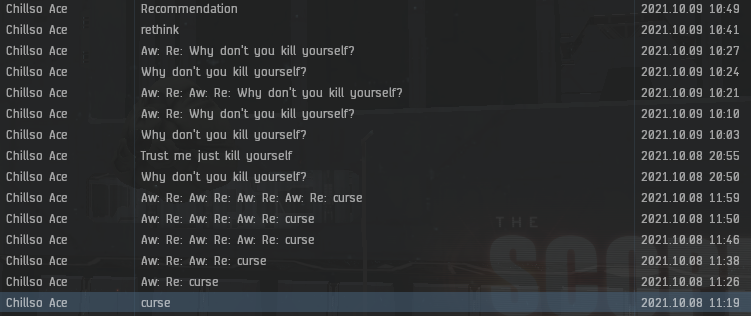 Instead, Chillso can curse mat Otsito (and his family).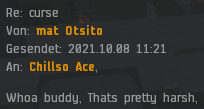 First, they will get cancer, and then the government death panel.

As Chillso explained, mat is a mass murdering psychopath in real-life. Therefore, it is only just and fair that mat's entire family be stricken with cancer (before their public execution). As a man, mat must accept Chillso's judgment.

The next day, Chillso made a simple proposition.

If mat kills himself, that would make it easier to mine.

Many years ago, the Mittani joked about suicide, and this is often cited as evidence of the Mittani's depraved mind. Consequently, when the Mittani heard about Chillso, he asked mat to give the miner a second chance.
Meanwhile, Chillso reached out to local miners, including two imperial informants. As it turns out, Chillso is conducting a coordinated psyops campaign intended to convince mat to kill himself (in real life).

Chillso is allowed to do this. Right?

It's just a game.

Meanwhile, Krig Povelli was warned by CCP, because he is Muslim.

I'm glad CCP has sensible policies, which are fairly enforced.
Indeed, Krig has been cursed for fifty years.