Every day brings new victories.
I am the #1 alltime PvP champion of Waira.
It's like CCP made EvE Online just for me.
I am growing more powerful.

I really only want one thing.
I am here to exterminate the mining caste.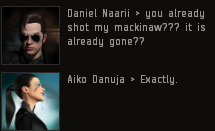 I'm going to win EvE, and have fun.
When I say winning, I'm not talking about quitting.
I know a better way to win.
Quitting is for losers and lossers.