Orcas have a question…
When will Hateless release his next EvE video?

Hawk vowed to kill Orcas, until Hateless makes a video.
Why is an EvE Partner rewarded for doing nothing?
What is he paid for?
Is it griefing, when you are paid to play?

I've heard the allegations, and let me be clear. I would never encourage anyone to visit that discord. His content is boring, like watching a grown man play Starcraft PvE by himself.
Nor would I ever ask anyone to take screenshots. However, since people (not associated with me) are taking screenshots, I might as well discuss what is already in the public domain.

Discussion is not illegal.
The Orcas believe Hateless got them killed.

Some Orcas suspect Hateless is ganking them.
Many Orcas feel Hateless is mocking their distress.
They know he is at fault.

They know Hateless is condescending.
They know Hateless is dishonest.
Fortunately, Hateless has a solution.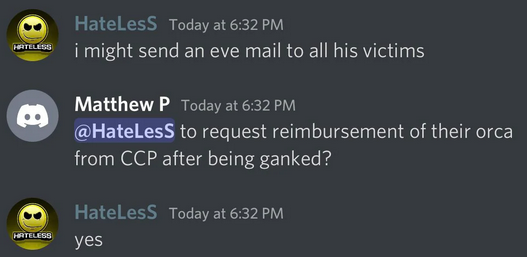 This EvE Partner wants to break the rules.
Hateless encourages people to violate the Terms of Service.
So Lexii decided to scam CCP.
This is a 2008 character , with 5 accounts.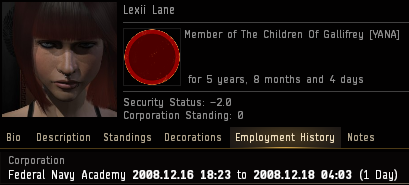 They literally brag about AFK mining.
They've been ganked, and they have ganked (repeatedly).
This person does not deserve reimbursement.
Today I suffered an irrecoverable loss due to ganker crews in high sec. I do not feel I can continue to enjoy this game at this point. If my ship and cargo were reimbursed, Ill consider staying, but I do not feel like having to grind…
Lexii exploited the reimbursement program.
Will CCP reimburse your loss?