Are new players exempt from PvP?
Rookies are, by definition, less than 30 days old.

Although it's not clear what constitutes "rookie griefing", it can only occur within a few specific locations.

What exactly is griefing? Nobody knows. I've spoken with several gamemasters, and they clearly do not agree with one another. They informed me that CCP has no official definition. Aside from three examples, there is no formal policy.
We are not allowed to scam new players (within a rookie system), or trick them into opening a yellow box, or disrupt the tutorial. However, what happens when a rookie begins mining? They are no longer in the tutorial, so are we allowed to PvP? Indeed, a gank is not a scam, nor a trick, nor is it a scenario in which we "fire freely".
Is ganking griefing? I find it noteworthy that the rookie griefing policy does not mention ganking, at all.
Only forum trolls claim otherwise.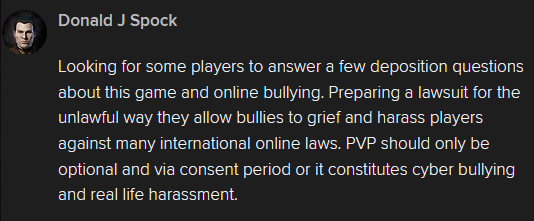 I've asked CCP, whether ganking new players is allowed. If the developers did not want to endanger nubs, then why send them to Hek (a notoriously dangerous system)? I believe the intent is to expose rookies to PvP, via the risk of ganking. I can't say that CCP agrees, but I asked if they agree, and they certainly did not disagree.

Regardless, Landslide is not a new player.
He died in Eystur, which is neither Lustrevik nor Hek.
He still claimed rookie rights.
What a loser crybaby!
He reported all my accounts.
All of them.
He cried for a long time.
Landslide believes in the Hateless doctrine.
PvP, in a PvP game, is "greefing".
Landslide decided to take a stand for justice.
He reported everyone.
Subsequently, Landslide followed me to Abudban.
He was on cougar patrol.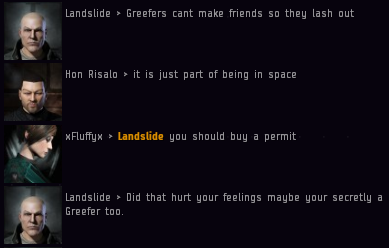 The other miners mocked his emotional distress.
The miners didn't listen to Landslide.
Nobody cared.
Landslide begged Hon Risalo to flee.
However, Hon didn't want to stop mining.
Indeed, Hon won -46.7 million isk!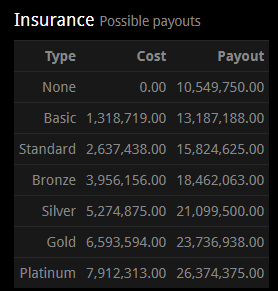 Landslide was left crying into the void.

There was nobody left to run away.