Previously, we met Barnso.
Unfortunately, Barnso did not fly safe.
What happened?
At least he likes me.
Barnso applied for SRP.
Barnso was excited to win 6.21 billion isk.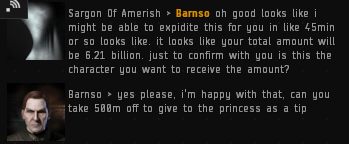 So he sent me a portion of his prize money.
He also tipped Sargon.

What a nice guy!
Cheers!
=BONUS ROUND=

Molly continues to bump the Miner Hunting Service.
I love my space job!