Previously on James315.Space… Kage1982 got dunked on, repeatedly, and was delighted by his glorious victory over the CODE. He thus began to celebrate in Isanamo. However, Ernst Steinitz removed kage's tethering rights, and kage found himself whirling through the void, without a safety net. kage was hurtling around the Home for Young Miners, when he spotted an official ASL voice-verified princess.
kage1982 > they are trying to catch me but are slugs
Ernst Steinitz > kage did not have a permit when we found him ratting in his Barghest, that's why he is sometimes a little angry at us.
Aiko Danuja > he isn't salty though
kage1982 > Aiko Danuja like the inside of your mouth for ten dollars
Like many miners, kage found himself immediately captivated by the soft Voice of Highsec, and that siren's call lured him into a trance. He fantasized about becoming a salty little, and jumping down the throat of his new vore queen. Once upon a time, Overmind Niminen had likewise beta orbited the YMCA, broadcasting romantic poems on all channels, in a desperate bid to woo the beautiful lady.

Now, it was kage1982, who also hoped to finally meet a real-life girl.
kage1982 > her ass is the size of frieghter no doubt
Aiko Danuja > Don't you feel foolish, watching us win everyday?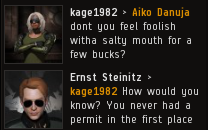 Kage had forgotten about Ernst Steinitz, but now he was reminded, that mining permits come with a number of perks.
Aiko Danuja > What do u mean by a salty mouth, for a few bucks??
Your Awesum Brutha > I'd say 10
kage1982 > you know dam well what, down the docks every night you are
Whadda Badasaz > What does Aiko do, down by the docks?
kage1982 > Aiko Danuja hey dont talk with your mouth full that guys paying them 10 bucks cheeky maire
Your Awesum Brutha > Aiko Danuja thank you \o/
Kage watched, as Aiko and her Brutha performed a magic disappearing trick. He realized there were benefits to being a CODE. agent, and he was jealous.
Aiko Danuja > What do you mean, my mouth isn't full ??
kage1982 > awww kid , does daddy call it something else 😉
Aiko Danuja > i dont understand can you explain?
Catalyst Whisperer > How can someone be so mad after being ganked like a month ago?
Whadda Badasaz > You know Aiko is a 14 year old child in real life, right?
kage1982 > yeah prob why you got her onboard isnt it
There are some lines which should never be crossed, and one of those lines is that a miner should never dare to express sexual desire for an agent of the CODE. This is wholly indecent, like trying to molest the SWAT team, as they bash down the door and order you onto your knees. Calm down, miner!
Whadda Badasaz > Your sexual comments are very inappropriate
Your Awesum Brutha > kage1982 you are so pathetic
Aiko Danuja > Kill: kage1982's Dramiel
Your Awesum Brutha > Can't make that shit up

Presto, abacadabra, zap!!! Just like that, kage's Dramiel vanished! Join us next time, on Kage Rage, Part 7, and we will reveal the mystical secrets of the Orient, and learn how CODE. agents made an entire spaceship disappear!!!!!
To be continued…