Previously, in the Princess Diaries… Kelroth's new friends identified Brutus as the trader, so Kelroth fired his Bible-thumping security director. Seeking revenge, Brutus gave all his stuff to Princess Aiko. Afterward, Brutus became a galactic space preacher, teaching the citizens of New Eden about Jesus and the flat Earth.
Shortly thereafter, Kelroth went on a tirade against Lovin, in Amarr local.
Following several hours of continuous IRL death threat spam…
…Kelroth's long life was cut short by carebear devs.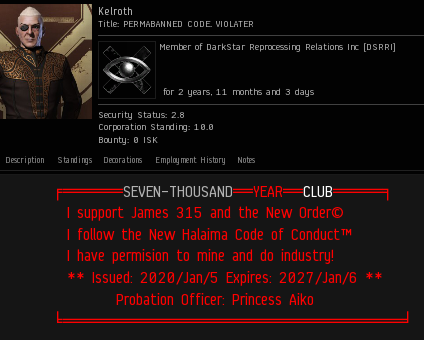 This was a perfect opportunity to seize control of his corporation.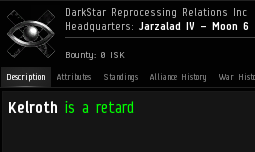 Under new management, miners began to protest.
They claimed Mr Lovin, not Brutus, was the real Lovin spy.
It was a dark era for DarkStar.
Fortunately, Kelroth could still access one of his alts…
…until CCP noticed.
Kelroth's only option was to create a new character entirely.
On Teamspeak, he explained his plan was to purchase back everything CCP had stolen from him. However, spies were lurking. Therefore, Kelroth declared that he would hereby appoint a new security director.
He couldn't have made a better choice.
For safekeeping, Kelroth Toke deposited his remaining wealth with Lilath.
Sievert began to cry (again), because Kelorth gave him nothing.
Meanwhile, everyone believed that Sievert was the real Lovin!
Sievert tried his best to be a white knight.
Sievert was disturbed that Kelroth's wife enjoyed sexual gang bondage.
Therefore, Sievert informed CCP that Aiko is a relentless seductress.
However, some believe that Sievert was just jealous.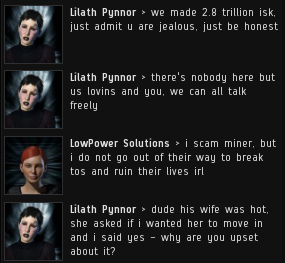 What do you think?
Undoubtedly, CCP is taking the allegations very seriously.
Alas, Kelroth decided that he no longer wanted to hang out.
As for Aiko, she continues to work as a space marriage counselor.