Previously, in the best EvE Online blog…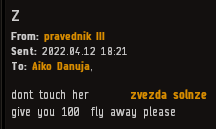 pravednik III paid 300 million isk to keep zvezda solnze safe.
I found this offer enticing and intriguing.

When I discovered zvezda mining, all alone, in a highly dangerous security system – I knew what to do. I gave her a gentle nudge, encouraging her to find a safer space to AFK bot farm. Safety first, always!
Wait, what?
Uh oh…

Here comes the Z!
xaxa western monkeys)))