Hola, amigos y amigas! Here are some osas that got dunked between July 26th @ 00:00 EVEtime through August 1st @ 23:59 EVEtime.
***
Vogon Hameraz thought he could smuggle compressed gneiss into Highsec, but he got a reality check from iZaEaRl, Gandor Ironfist, and Airne Earl. The good news is that Last Stand Enterprises is looking to hire a new hauler.
***
Ragnar Royce lost his gold-plated Paladin last week, and was ordered to purchase a mining permit. Ragnar ran away, hoping we would forget, but he was wrong. After a thorough search of Apanake, Ragnar was punished a second time, by Shadow Cyrilus, Sven Ole-Torssen, midijerk93 Patrouette, Yes Mr Cheng, and Buttercup Potemkin.
***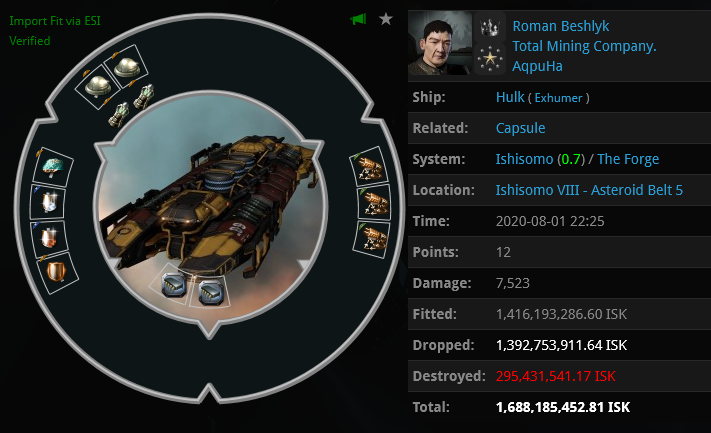 Roman Beshlyk was excited to finally find his niche, as a member of the Total Mining Company. Unfortunately, as you might have guessed, his exhumer failed to pass an inspection conducted by Ulianov and GAY PRIDE BOOOOOM.
***
joe stonegrinder wanted to make a name for himself, and decided to become a fittings innovator. We've all seen mining battleships before, but behold the salvage battlecruiser. Fortunately, Lyrialtus took out the trash.
***
Lay Klaus forgot about PvP, and decided this was a perfect time to load his jump freighter with some tritanium and a stack of ORE Expanded Cargoholds. What a goofus. Lay was evicted from Highsec by Inspector Implant, Keisharae, Jayson Kusion, Charlie Jacobson, George Painter, and Dubious Anime Name. Great job guys!
***
Hurricane Jefferson slapped some expanded cargohold modules on his empty blockade runner, and was promptly counter-MWDwarpcloaktricked by Augustus De Morgan, Niels Henrik Abel, and Erhard Schmidt. When Ernst Steinitz spotted an escape pod, the illegal miner was vaporized, along with his High-grade Hydras.
***
BONUS: I wouldn't be the official Saviourette of Highsec, if people weren't commissioning paintings of me, and praising my name. CODE. Origin's in-house artist, Xeux, made a portrait of me and the boys.