Previously on James315.Space… He was a Highsec miner by day, but at night he became Rudokop, the Soviet demonhunter.
When Adrian Vexier confiscated Rudokop's mining drones, the Russian bear was determined to send Adrian into an eternal gulag.

Adrian offered a second opinion, suggesting that perhaps Rudokop's highsec mining fetish was symptomatic of a deeper underlying cognitive deficiency. However, Rudokop doubled down upon threats of eternal damnation.

Rudokop was smiling in game, but in real life he wasn't so thrilled.
On the unpaved streets of Krasnotankymagnetgrad, Rudokop's real life main endured endless misery, watching as his native community was torn by strife. Last week, a motorist was torn asunder by an angry mob of unemployed miners, desperate to drink a litre of warm motor oil. In such a world, Rudokop's solace was EVE Online, a relaxing universe where he could share the means of production with his alts and peacefully mine in solidarity. At least, until a demonic force was drawn to his mining drones.
Rudokop knew he could not defeat the demon through PvP, so he hoped to negotiate a victory, offering to pay 50 million isk for Adrian to die in real-life.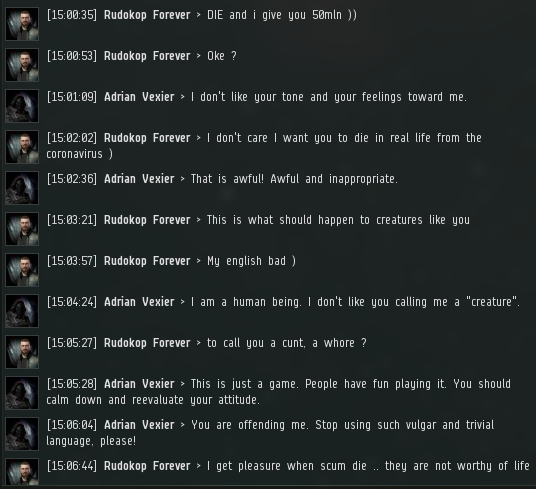 When Adrian refused to take the bait, declining the offer of free isk, Rudokop was forced to implement a tough love psyops campaign of hate mail.

To be continued…
***
PRINCESS THOUGHTS: I'm the Saviourette, not merely of Highsec, but of the New Order itself. A couple people questioned this, and one of them is no longer with us, but everyone else agrees that I am the future. It's simple, just look at how antigankers feel about me, and do the math. You are either closer to me, or them.

John E Normus was in comms last night, and the man is a true champion, who once flew with legends of yore. Before the mighty CODE. alliance even existed, your forefathers set forth in the footsteps of the Sheikh, guided only by their timeless lust for a Khanid princess. Yea, and Helicity did declare that Jihadswarm was the way, and the VCBees led them out of darkness and unto the light of Orcageddon. Many hulks thus died in vain, and yet we continue, thanks to the heroic effort of the pioneers.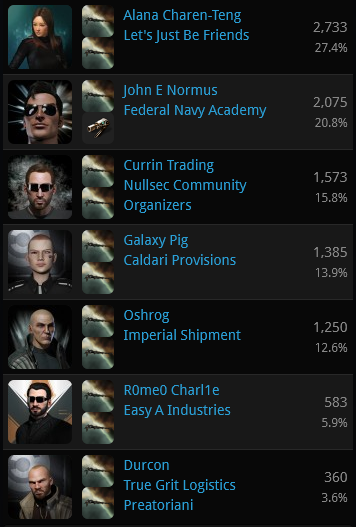 John E Normus drops by from time to time, just to say hi, letting everyone know that he isn't quite dead. Tweeps is always desperate in these moments, like an eager puppy greeting his master, but John stepped right past him and looked directly at me, "Princess Aiko, it's good to see you." The tone in his voice said it all, John knows exactly what I'm up to. He then declared unto the assembly, "Aiko is doing good work. Two months ago, this alliance was dead in the water. She has saved the CODE. She has saved you from yourself." I guess that's why they call me the Saviourette, right? That's right.
When 315 begged me to return, I tried to explain that I couldn't remember my old account login, and the Imperial Guards are content to slumber into oblivion. Was it truly necessary for me to come back and seize control of his newfangled upstart space regime? I had my own doubts, but agreed to give it a try, as miners provide precious content. I can't say for sure whether I will save the alliance tomorrow, but I can say that I saved it yesterday, and I saved it today, and I'll probably do it again.
Of course, I wouldn't truly be the Saviourette of Highsec, if people weren't painting artwork to celebrate my glorious reign. However, they are, and that's just a fact. Check out this nice piece by Minerbitch. Lookin hot! The bears better pray James 315 isn't dead, because otherwise they are stuck with me, and I'm not as messianic.

NOW HEAR THIS