In the award-winning film Robocop, the antagonist is a bot aspirant employed by Omni Mining Corporation. This same character exists in EVE Online, where he is known as Rudokop. In both cases, the character is a shameful golem, which serves the interest of a nefarious high security conglomerate. One day, Rudokop was stealing ore, when Adrian Vexier confiscated his illegal mining drones.
This is war, this is not peace.
Dark slime fills the aether.
Dead children don't touch the heart.
Black mark for all gentiles!
Rudokop's PvP alt is Ivan Mihalich SIM, who roleplays as someone salty.

Adrian is not very good at taking screenshots, but does that make him a demon?


Ironically, according to CCP, Adrian is a saint! Whereas Rudokop's security standing is 0.7, Adrian's is fully 4.3 points higher! Is it possible that those who embrace the Code are better at carebearing than the carebears themselves?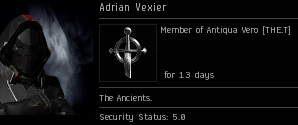 Rudokop was clearly jealous!

When Rudokop tried to exorcise the demon, he was dismayed to see yet another demon appear in local, and they began to discuss him with clinical disdain.

Life is hard for Soviet bears…
Perhaps Rudokop could find a way to win, in the afterlife…
To be continued…