Previously on James315.Space… Pandemic Horde was on the brink of utter annihilation, and the Imperium was preparing for war with a soon to be extinct TEST Alliance Please Ignore. However, with elections to the High Hall of Halaima in full swing, it was anyone's game and Emperor Aiva Naali needed every isk to succeed.
Late fees were eating into the directorship campaign budget, but Agent Anvil, aka quantum, was determined to seize control over the Goonswarm Federation.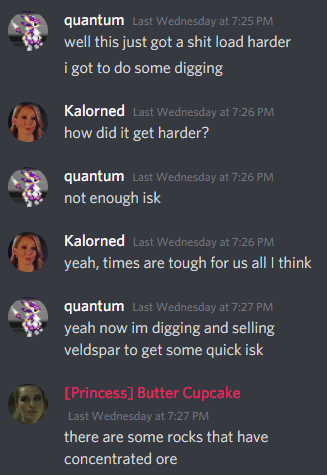 There was always just one problem. In order to contract PLEX, greedy CCP bureaucrats required quantum to pay a whopping 10'000 isk processing fee. Nobody asked quantum where he managed to obtain PLEX, but the Imperium needed as much as possible! There was only one solution, and this would require quantum to jump in his mining corvette and start digging. The fate of the galaxy hung in the balance! Unfortunately, quantum was distracted by endless requests for yet another encore, and he got caught by the rats!
Eventually, after quantum aka AsteveonWard OverGreer stopped being AFK, he was able to scrape together enough ore to send his next payment. The money whirled away to the Delve, where it was immediately sunk into yet another Keepstar. If you are looking for some hot tips on how to fit your own little mining corvette, check out this detailed guide by the EVE Onion's very own Princess Aiko!

Subsequently, as quantum continued harvesting, he listened to elite commanders of the Goon navy, as they scrambled to win another critical battle. Everyone in EVE eventually settles into their career, specializing in one particular aspect of the game. For quantum, that niche is to be ensconced deep inside Halaima High Command.
It was riveting content, but even the best and the brightest make mistakes, and you can't have an intergalactic omelette without breaking a few eggs.
If quantum could get into a Nyx, perhaps the tide of battle might turn?
It was time to destroy penifSMASH once and for all! Quantum was ready to rock, and this time the Imperium would not be taking prisoners!
To be continued…
***
BONUS: Herzog Wolfhammer has drawn this portrait of Australian Excellence, aka Loyalanon, the #1 elite PvP alpha male! Crikey!