Previously on James315.Space… VictorStark Stark and his alt Lilliana Lestrange enjoyed karaoke night, with James 315 and his kickboxing supermodel girlfriend, Aiko Danuja. Victor was impressed to meet the charming head of the mighty CODE. alliance, and was not in the least surprised to learn that Aiko is a real-life princess with an ironclad claim to the Holy Roman Empire. Like any reasonable person, he happily turned over all his isk and assets, even trading skill injectors for skill extractors.
As we saw in Highsec Miner Grab Bag #208, Victor wasn't an ideal candidate to serve as the successor to James. Nevertheless, James was planning to pass away, and willing to consider trading the alliance to Victor. The interview seemed to go well, and Victor committed himself to the Oath of Poverty. Unfortunately, things took an awkward turn, when Victor failed to show full faith. Elite NOL director Super Perforator encouraged Victor to proceed with his application to CODE. and accept appointment as executor of the alliance, but Victor was focused only on petty pecuniary interests.

Meanwhile, Lilliana was jealous that her main trusted Aiko more than his own alt.
It soon became clear that James might blue pen an alternative candidate.
Victor realized, too late, that Aiko wanted the alliance for herself.

That shameless blue digger cast a spell on James!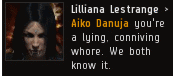 Lilliana vented her frustration at everyone in Audaerne.
Anyone might be a Danuja alt…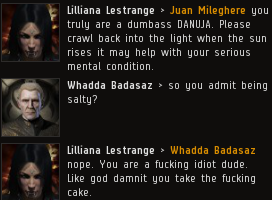 Fortunately, Lilliana wasn't salty.
Capsuleers heard a MinerBumping episode was being filmed, and traveled from across the galaxy, with dreams of being cast as an extra.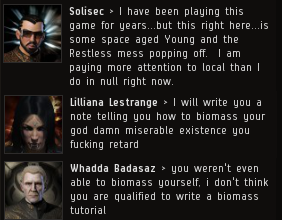 The conversation encouraged a vibrant discussion of game mechanics.
Eventually, it was a wrap. Everyone got what they wanted, but they naturally hoped Lilliana might return for an encore.

Unfortunately, Lilliana no longer wished to speak with anyone.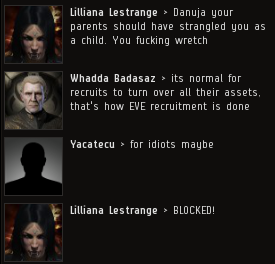 She appeared quite mad, cackling hysterically in the middle of nowhere.
Although Aiko was blocked, mysterious strangers let the Princess know that Victor was thinking of her. Might he return for another episode?
To be continued…