Previously, in James315.space... Adrien Naline is a filthy boor, who has spent years stalking and sexually harassing Alt 00. She repeatedly declined his advances, and yet he continues to violate her boundaries, because he is a disgusting pig.

EVE Online is best known as a friendly family game, where laggy spaceships slowly explode in glitchy fireballs, much like the three supercarriers my mom lost in Querious. However, there is a seedy underside to the game, and you may be shocked to learn that uncivilized Highsec miners frequently abuse their angelic caretakers.

Alt 00 is often disappointed by Adrien's toxic behaviour.
Recently, Adrien was inspired by a lovely portrait of Princess Aiko.

However, he soon realized that Aiko is a staunch feminist.
Adrien panicked, as the CODE. alliance is now a mighty matriarchy.

As a weak man, Adrien felt sorely diminished by the rise of a strong woman.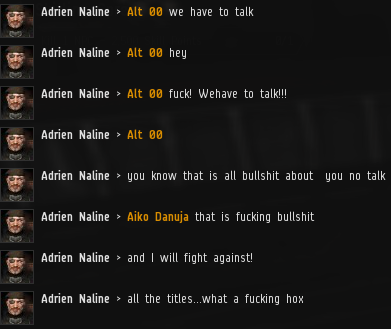 Oppressed by alpha females, Adrien saw only one way to regain his masculinity.
CCP bans CODE. agents for the slightest indiscretion, but takes no action against vile miners. Have you ever noticed this? As Alt 00 was pondering such hypocrisy, she was pleased to watch the passage of Aiko's entourage.
Adrien was filled with passion, desperately trying to kiss Alt 00.

Other miners urged Alt 00 to lower herself to the depths of depravity.
It was a typical day in Highsec.
To be continued…