Back in July, someone filed a botting report, and an elite CODE. taskforce was promptly assembled. I probably should have screenshotted the original allegation, but it was just the usual condemnation of minery. Fortunately, I did preserve a damning surveillance photo, submitted as compelling evidence of illicit botting.
I presume the original Reddit post was deleted, because Redditors are weak. They mean well, but lack courage and faith. The carebear poster was horrified, when he learnt what he wrought. He wrongly believed he was reporting a bot, but (in fact) Li Gazer was human. Nevertheless, bot aspirancy is also a capital offense.
Ernst Steinitz challenged Li to an honorable 1v1 duel, and was surprised when Li employed a questionable mining doctrine. Of course, Ernst is a real sportsman, and made sure to offer a friendly "good fight" in local. Handshake!
The carnage was astounding.

Surprise! Li is an evil warlock, and it was his 65th birthday.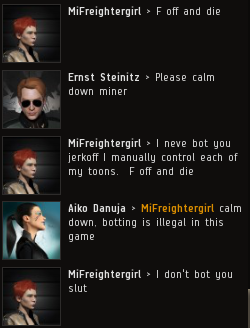 Somehow, Princess Aiko always manages to make herself the center of attention. How does she do it? Well, as James 315 famously explained: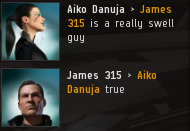 ALWAYS
To be continued…
***
FUTURE GOALS: Some people feel CCP is biased against the mighty CODE. alliance. During a recent 'livestream' discussion of upcoming nonse, I certainly felt rather slighted. As soon as I praised James, literally immediately, I was muted! It was almost like they had a bot, scanning for such content. Meanwhile, miners were allowed to repeatedly type "Fuck CCP. CCP fucking hates miners. Another fucking shitty change to Highsec." They cried over and over, yet CCP saw no reason to mute their foul words. So it appears that CCP doesn't like us, but maybe they just don't want miners to know how much they love us, because they sure don't seem to like carebears either.
CCP has an upcoming goal, which makes me think they just might adore their little Princess. Indeed, is she not CCP's Saviourette?


I'm here to help!