Previously in James 315 Space…suki lost a Mackinaw, and paid 100 million isk to get it back. Maybe it exploded, but perhaps it dropped as a lootable item? Princess Aiko is a nice lady, so suki paid twice, and bought an Orca for another 100 million. He also paid 30 million plus 10 million plus 30 million. He did it again (and again).
Even antigankers stand in awe of me, and well they should. EVE is a game, like Monopoly. Except, when I visit your Boardwalk hotel, you will pay me for the privilege of my presence. Also, why don't you hand over those blue cards, thank you!

Back when I invented isk quintupling, I understood the importance of a solid telemarketing script. Once you bring the client into a money funnel, you don't want them to escape. I eventually realized you don't need to return any isk at all. Just keep being honest, and calmly explain the terms and conditions. You will quintuple your money in no time! Suki owed me 100 million isk. He also owed 30 million isk for shipping and handling. Oops. I typoed. He actually owes me 40 million isk. Why did he only send 10 million more? Shipping and handling is 70 million, so he just needs to pay 30 million!
It's ok to improvise and innovate. Jerry Rin might be dead and gone, forever and ever, but Aiko is here to save you. Just listen closely and understand. Shabba wabba doo wat do wat. 10 million? 30 million? 40 million? 50 million? 100 million? Just send me all your isk, just send it all to me, and I'll spend it on myself.

Did you ever wonder how Aiko got so space rich?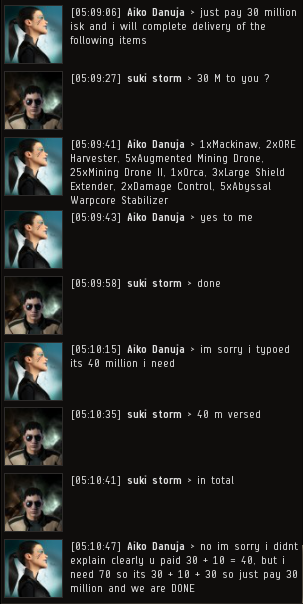 I'm soooo good at EVE. I'll let my assistant take over.


Oh boy, suki is about to get his Mackinaw and an Orca!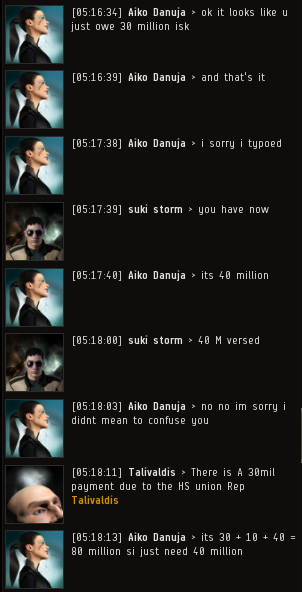 I even helped out antiganker Talivaldis.
Sometimes, I make it rain.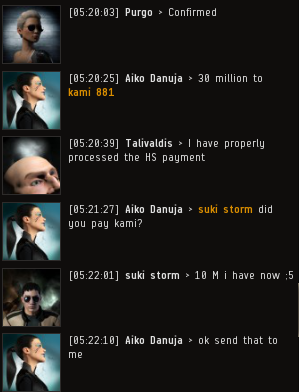 10 million isk for a mining permit? Haha, I think we can do a bit better.
Alas, poor suki was bankrupt – or was he just lying?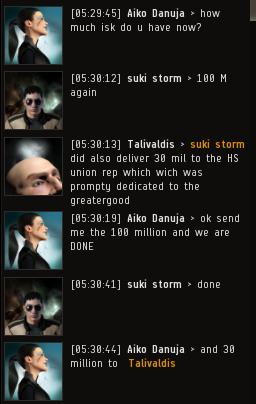 He paid Talivaldis twice, then he paid me thrice more.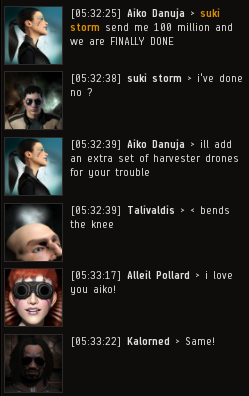 I just need (another) 100 million!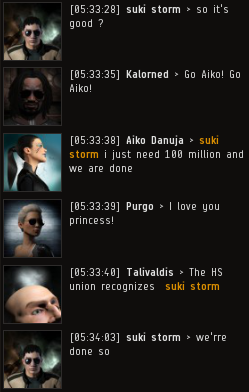 We aren't done suki. There's no escaping the spider queen's web!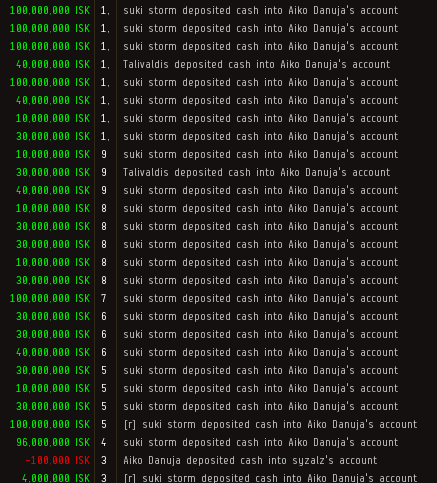 I love to suck men dry, and they kinda enjoy it.
To be continued…
***
BONUS: Newbro PartTimeJerk got dunked in his Venture. Three times, according to zKillboard. EVE would be boring without the CODE.

***
DOUBLE BONUS: I sure do love shooting bot Ventures!