Previously in James 315 Space… suki storm lost a Mackinaw. In order to get a new Mackinaw, he paid 100 million isk to Princess Aiko. Rewind. Before paying 100 million, he paid another 100 million.
Aiko Danuja > hello miner
Kalorned > Hi!
suki storm > i'am not miner do'nt take the risk
No Bodiei > Aiko is drunk
Aiko Danuja > Suki, pay me 100 million isk or I will gank you again
suki storm > it was my first dit to minning since a moment i can do some mistake no ?
Aiko Danuja > I will destroy another miner ship, unless you pay me 100,000,000.
suki storm > i have no isk by you fault
He claimed to have no money, but miners are liars.
Aiko Danuja > Once you send the isk, I will send you a receipt as confirmation of payment. If you do not pay, I will not allow you to mine.
suki storm > i hav" just 4million in my account
Aiko Danuja > Good, now find another 96 million.
Buttercup Potemkin > hurry up miner
suki storm > if you continue to speak as this i go to be rebel
suki storm > you think you can destroy a kronos in few second ?
Aiko Danuja > i can kill a kronos easy
suki storm > with what you kill a kronos XD
suki storm > yeah it's really my problem
He still needed to pay 100 million isk.

That's 100 million, not 4 plus 96. He also needed to pay 30 million isk for shipping. Er, um, 40 million. No, I didn't mean 30 million plus 10 million = 40 million. I meant 30 + 40 = 70 million. Hurry up, miner!
suki storm > your number is your power that's all
Netheril X > Did I make you cum when you blew up my ship?
suki storm > i want just play i, peace
Elise Shomitzsu > No wonder no one likes this shit game.
No Bodiei > suki storm u have to pay for pillow talk
Aiko Danuja > Elise is just grumpy, because her mackinaw exploded.
So suki paid, and paid, and paid again (and again).
No Bodiei > you won't see anything like this anywhere else in eve. Aiko is one of the great wonders of eve that should be seen on a grand tour
He also needed to tip the delivery driver.
It is customary to also tip the other driver.
The standard tip is 30 million. I mispoke, 40 million. That's 70 million! Or 80?
If there is a third driver, you must tip again. Always! The fee is just 30 millon. I mean, 40 million, 70 million!
This is the art of the deal.
Shipping is free, but you have to pay the Uedama toll (again)!
It's just 30 million. I mean, you owe 40. So 70, right?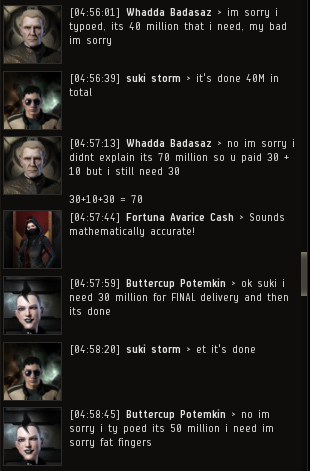 Don't forget about the other delivery driver!
Fortuna Avarice Cash > ruthless
Talivaldis > what a wonderous and joyful thing to behold the princess
Purgo > Amazing Aiko