Previously, in James 315 Space… Princess Aiko developed a master plan. First, you kill the Mackinaw. Then you charge them 100 million isk, twice. Next, you charge them 30 million isk. Oops. 40 million isk, not 10 million isk. I mean, 70 million isk! Also, they owe another 30 million isk, or 40 million now. So, 70… 80 is fine! Also, why not sell them an Orca for another 100? Why not another 100? And another?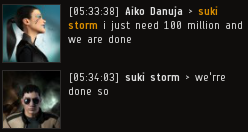 Miner suki storm was happy to be done.
Voila! In the beginning, suki only had 4 million isk.
suki storm > i hav" just 4million in my account
After investing with Aiko, isk was falling from the sky.
You can't stop this girl! She's invincible. Seriously, what's her secret recipe for success? Is she casting spells? Hypnosis? Does she plan everything out, years in advance? Is it sheer charisma? Intuition, fate, or old fashioned Texas luck? Sex appeal??? Maybe, she was just born with it? Send me 100 million, and I'll tell you!
Suki was catching on. Alleil asked for 30 million isk, and would then normally state "Oops, I typoed! You owe 40 million." Suki would then send another 10 million, and Alleil would say, "No, no, you owed 70 million, so you paid 40 and still owe 30." This time, however, Suki just immediately sent 70 million isk straight away. Too bad Alleil typoed, because suki actually owed 100! Nice try, suki!


Suki was learning fast, and it was time to overheat.
Once again, Suki was bankrupt…

However, he was also a contestant on Deal Storm, where the price is always right!
Could Suki afford to win?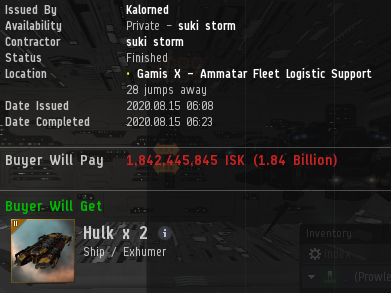 He had to think fast!

Think big!
Why would you use a cellphone to take screenshots?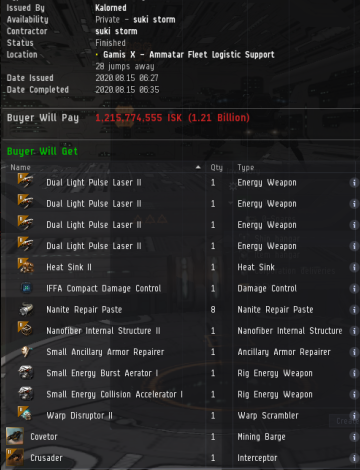 Miners love me, and they love my content.
To be continued…