Listening to: Cartoon High Trip #2

Previously in James 315 Space, suki storm was a contestant on Deal Storm, winning negative twelve billion isk. Although suki claimed to have only 4 million isk, Princess Aiko helped suki pull 100 million isk out of an empty wallet. When she did it again, suki realized this is a cool magic trick, and he was happy to make it rain. 30 million isk. 10 million isk. 30 million isk. 40 million isk. 70 million isk. 80 million isk. 100 million isk. 100 million isk. 100 million isk. 100 million isk. 500 million isk. 1 billion isk. 2 billion isk. 2 billion and 315 million isk. This is how you win EVE.
Everybody loves to play my game.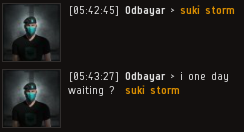 Surely, Princess Aiko can't do it again?
You can't stop her. She does it all the time.
Aiko is invincible.
It's just part of the game.

Every game has winners and losers.
Follow me, if you want to win.
This isn't a negotiation.

I'm a Princess.
To be continued…
ART THERAPY
zuzzik continues to recover from several unfortunate hauling incidents, expressing his feelings through a visual medium.