Previously, in James 315 Space… Warrior McQueen lost his beloved Mackinaw, and a bunch of fancy implants. This really sucked, but he was delighted to learn that everything would be promptly returned, after one easy installment of 100 million isk. Also, there was a 30 40 70 million isk shipping fee.
After several payments, Warrior was ready to get his stuff.
Unfortunately, griefers are ruining the game.
Fortunately, Warrior's friends were willing to help.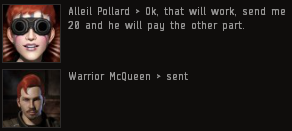 Unfortunately, there was a problem.
Was Warrior trying to scam Alleil?

Warrior was ready for his new Mackinaw!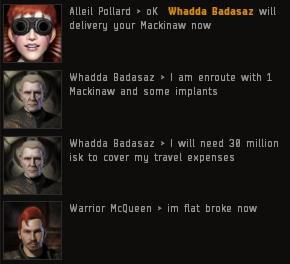 Unfortunately, he was also an isk cheater.

To be continued…