The Best Revenge, Part 1
The Best Revenge, Part 78
Previously, in James 315 Space… His Grand Space Lord High Supreme Star Excellency avia naali, aka the Suppercomputer, aka 140, aka aiva naali, aka Megathronus Rex, was determined to ensure his place at the head of the Imperium's mighty War Council. While Brisc Rubal and the Mittani talked in stations, avia took direct command of the fleets, to ensure the success and glory of Goonswarm.
Pandemic Horde was on the brink of utter annihilation, with the dance squad infiltrating past confused gate camps, and cloaky wolves nipping at the horde's tenuous logistics. It was now early summer for most people, but avia found himself upside down, facing the approach of a harsh Antarctic winter…
Amidst a frigid blizzard, avia reflected upon the campaigns of Napoleon, paying particular attention to the advance upon Moskva in 1812. Just as Napoleon was betrayed by treacherous Germans, avia feared that the double traitor Vily might lead TEST upon Fortress Delve. Ah, but all this reflection gave avia a sudden burst of inspiration. What if he adopted Napoleon's doctrine of the Grande Batterie?
Why stop there? Each nation has its own unique racial characteristics, and avia sought to organize Goonswarm according to natural tendencies.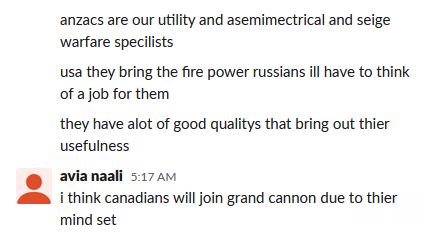 Meanwhile, Princess Aiko took direct command of the anti-mining taskforce, and drew avia's attention to the belts, from which Pandemic miners continued to pour minerals into the vast Horde assembly lines.
With his vast experience, this was precisely the kind of direct technical question which avia was well suited to address. He immediately resolved the problem.
The solution was simple enough. First, use a bump reflection to knock them away from their digg. Subsequently, kill all the rats! As Sun Tzu once observed, when a miner sees a digg without any rats, he is naturally loath to continue mining. However, what of the new nationalist doctrine? Was the fleet happy?

All was well, and everyone was delighted to join Heritage Fleet. avia smiled, and declared it was time for pod races!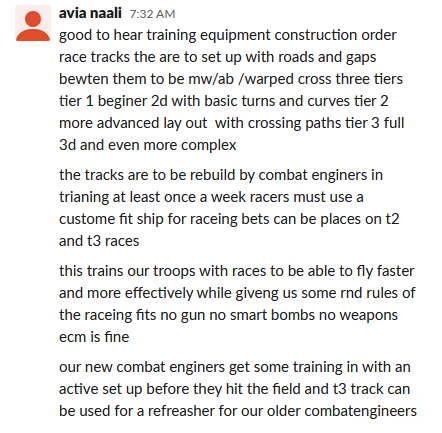 As combat engineers returned to the Delve, and began work on the Circus Maximus, avia continued to innovate. With a stroke of sheer genius, he surpassed even Napoleon, creating the EVE equivalent of mobile horse artillery. Of course, range could be readily corrected by bumping battleships back and forth.

Meanwhile, weird things were happening, especially in Highsec.
avia was glad to have a new ally, because he was about to have a new enemy.
The Great Imperator let his foes know, he was aware of their plot.
Would that double traitor, Vily the Silly, heed this warning? More importantly, would Pandemic Horde be left utterly demoralized by a taunting?
The Great Mind War took place behind the scenes, a metagame confrontation between some of the most powerful players in EVE history. Of course, the result was a stunning success, as Pandemic Horde's top strategist suddenly had a public meltdown.

avia was proud of his work.
It was nearly time to sound the Horn of Goondor!