The Best Revenge, Part 1
The Best Revenge, Part 78
Previously, in James 315 Space… The long Antarctic winter cast frigid winds across the southern hemisphere, and the mighty High Lord Space Star avia naali, aka aiva naali, aka Australian Excellence, aka loyalanon, aka aka, was determined to survive long enough to seize control of the galaxy.
avia was concerned the Horde might attempt a winter offensive.
Meanwhile, Goonswarm's elite Military Intelligence SIG reported otherwise.
Princess Aiko did not share avia's concern, but he knew better. The vile double traitor Vily might, at any moment, decide to betray the Swarm.
Indeed, the strategic balance of power was shifting, exactly as avia planned.
Triumphant in his glory, the 'lil bullet, aka 140, knew victory was in his grasp.
His terms are most merciful.
Pandemic Horde will be exiled to Highsec, and that whore Elise Randolph will be sentenced for life to Kamio IV belt 4, permanently confined in a mining Tarya. With these details settled, avia returned to the ongoing war.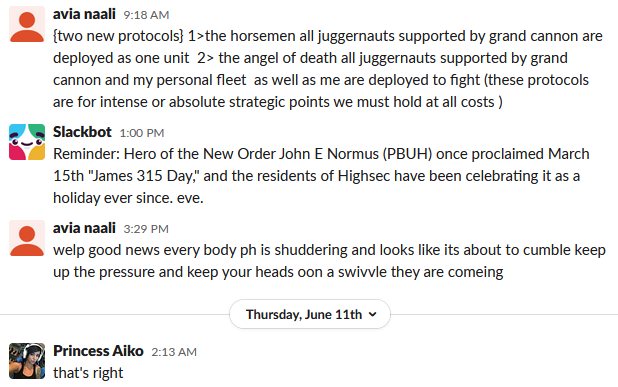 Inspired by the tale of Globby, avia continued to produce new supperweapons.
The Suppercomputer also ordered the creation of a wormhole truck stop.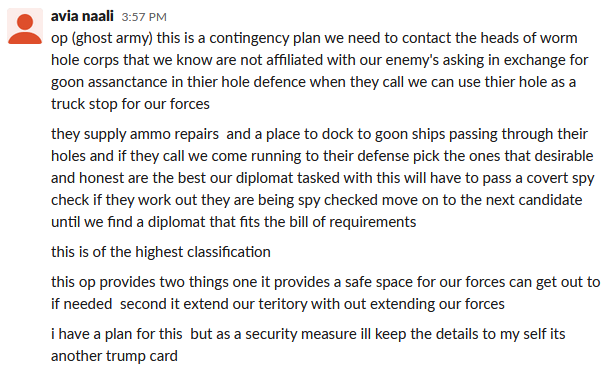 At times, it was necessary to address financial matters, and avia requested that his personal secretary, Princess Aiko, provide him with an official receipt.
Finally, she processed the requisite paperwork.
The Director Level Buyin Confirmation Security Card serves as High Lord avia's official laminated ID badge, allowing top security clearance in all Goonswarm affiliated organizations (including the town of Pearl River). Furthermore, it doubles as an Ice Mountain Ski Pass, during the annual alliance trip to Colorado Springs.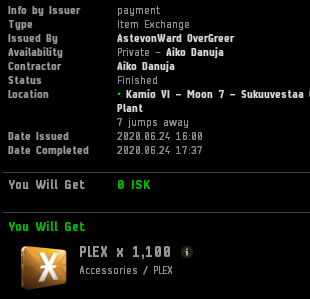 To be continued…