The Best Revenge, Part 1
The Best Revenge, Part 78
Previously in James 315 Space… Goonswarm has a new FC, the High Lord Sky Marshal avia naali, aka the Suppercomputer, aka 'lil Mittens, aka James 315 2.0, aka He Who Knocks Upon Stars. avia recently transcended space, time, and basic mechanics, learning to master the ultimate power of the galaxy. Rat bombs and rweaking ballquals exploded across nullsec, as avia developed increasingly powerful supperweapons, becoming the first capsuleer in history to proclaim himself Queen of the Rats.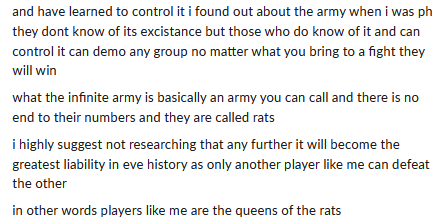 Unfortunately, the power of a rat queen is too awesome to behold, and avia forbid Goonswarm to ever use this weapon of sheer terror and infinite destruction. Even if all of Delve were lost to the Horde, and the Horn of Gondor shattered asunder, only a fool would dare to summon the dread Leviathan Cthulhu.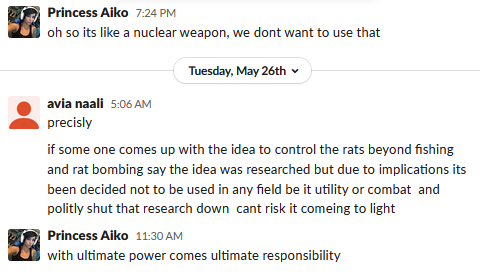 Now that he possesssed infinite power, avia resumed taunting Pandemic Horde from the MinerBumping.com blog comments. As avia knew, MinerBumping was the center of the Imperium, and an ideal place to humiliate his enemies.
Pandemic Horde spies worked overtime to try and mislead avia, pretending that there was no war at all. However, the truth is now plain as day.
avia gloated over his foolish adversaries, revealing that the entire war has been just a mere training exercise for the Imperial Navy.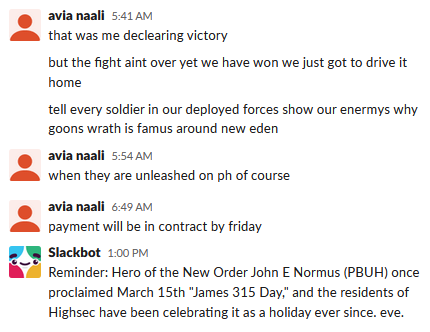 As Pandemic Horde writhed in misery, caught in avia's web of training skank traps, he dutifully made another payment to fund the mighty swarm.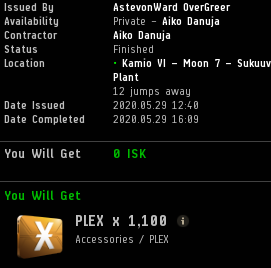 Now that bills were paid, it was time to issue new orders.
AGBee 001 was directed to make a leap frog attack. Meanwhile, lanceing fleet caused chaos, and cloaky wolves permanently blocked the road to Jita. In the rear, a line of rorquals firmly blocked Pandemic counterattacks.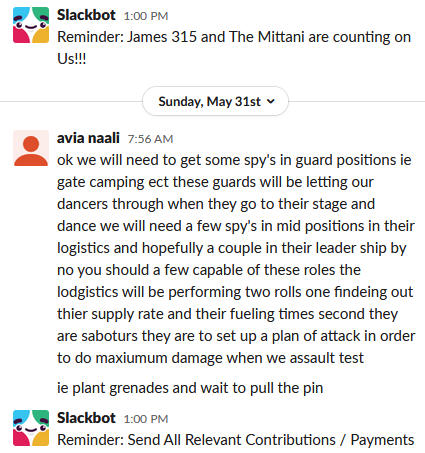 With their frontline torn asunder, Pandemic Horde was sorely unprepared for phase II of the operation. Sleeper agents, hidden inside the Horde for years, suddenly awoke and volunteered for guard duty. These spies let dancing fleet slip deeper inside Horde's inner nest, triggering awestruck confusion wherever they might cast their allure. In turn, this provided cover for logistics spies, who systematically photographed schedules, and placed grenades into the very cogs of Pandemic industry.
However, could avia survive a harsh Antarctic winter?
To be continued…
***
BONUS VIDEOS: Have you ever wondered what Ventures do after they get podded? Where do they go, what do they think about? Fortunately, McDubbzyTTV was streaming his own afterlife. Is this the start of a war?