Like many Zionists, Goldstein simply wants money.
Fortunately, more experienced miners can help.
Alas, all miners must die.

Of course, it would be anti-Semitic to think all Zionists are miners.
Indeed, Shekelstein kills miners.
He seeks to create a holy land, free and pure.
However, bigots like Toekeshi oppose this dream.
Such people are consumed by hate.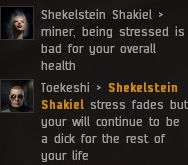 Toekeshi began chanting, as Shekel cleansed Isanamo.
Docked up, with no spaceship, there was nothing else to do.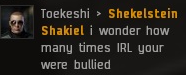 Toekeshi wondered, whether Shekelstein might be an internet tough guy.

Actually, Shekelstein is a big strong man, in real life!

What a stud.