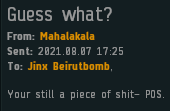 Well, I guess it's time to check my mail.
I've got a lot of unread and unsorted mail.

Apparently, someone in my alliance was ganking miners?
Dead miners continue to haunt me from beyond the grave.

I'm even starting to learn Russian.

The miners have so much to say.
In any language, they all sound the same.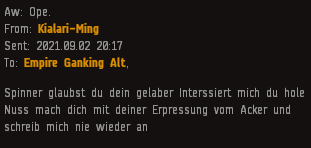 Spinner believe you your gelaber Interest me you get nut make yourself with your blackmail from the field and never write to me again
Of course, the miners are also learning English.
Together, we are all learning to play EVE.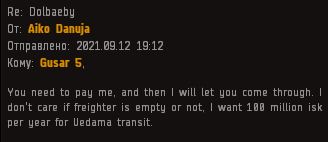 Obviously, some of us are a little ahead of the curve!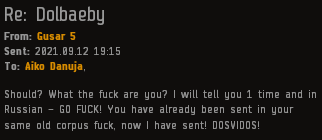 If you want to contribute to this sacred archive, the process is simple.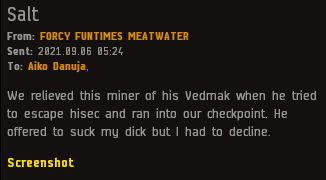 Easy!
Heh. Those silly miners only seem to want one thing.

Hey! Do you remember when I took everything Odbayar ever owned?

I didn't bully him out of the game at all!
I'm proud of you Odbayar.