Previously on James315.Space… Hyperlife was eager to buy his permit, and donate billions of isk to support the New Order. Getting ganked was a real gamechanger for him, and he was eager to stop mining. Let's now examine another sort of miner, the unrepentant newbro. Little Odbayar hails from Mongolia, but soon found himself stealing ore in Highsec. As you might imagine, he found himself in quite a bit of legal trouble.
At some point, Odbayar was convinced to purchase a permit, but became dismayed when the license was revoked. Unfortunately, bot aspirancy is a violation of the End User License Agreement, as defined by the New Halaima Code of Conduct.

As part of the Pangalactic Ganking Amnesty Agreement, negotiated amidst a derecho on Agil-III, the official leadership of the New Order and the ranking shareholders of the realm have agreed to support a combined grand offensive against Highsec miners. It was thus that Odbayar found himself confronted not only by the mighty CODE. alliance, but also by our friends in Pandemic Horde. Subsequently, I was touring the official CODE. museum, when I found poor Odbayar crying to an empty channel. I could see he was desperately attempting to find someone who would sell him a new permit, and took it upon myself to invite this little fellow to a more active channel: Why Was I Ganked?
This was not Odbayar's first time in prison, and he knew the routine, dutifully presenting his latest killmail for an official inspection.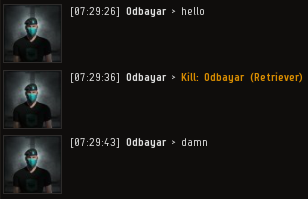 After examining the evidence, I summoned Butter Button to collect rent.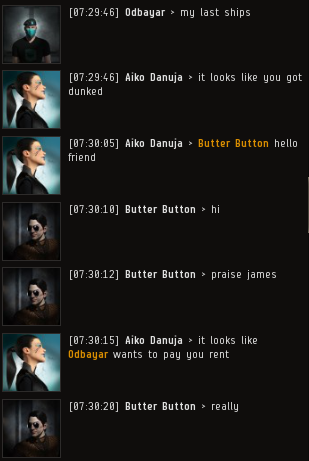 Odbayar briefly malfunctioned, but was easily rebooted.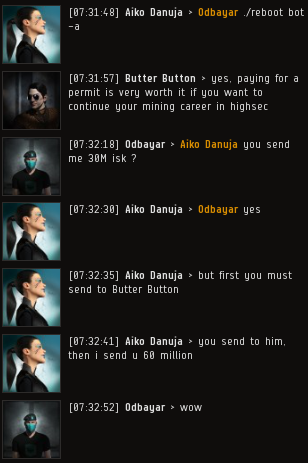 Like most newbros, Odbayar appreciated our help.
Butter Button was especially impressed by the professionalism of Princess Aiko, the Sword of Restoration. The New Order once again demonstrated that it was not only the master of Highsec, but Nullsec as well.

Odbayar was happy, and Butter was also satisfied.

Everyone was content, but could Odbayar negotiate an even better deal?
To be continued…