tanktheface lost his Iteron, and a Caracal.
He didn't care.
He enjoyed full SRP, after losing someone else's ship.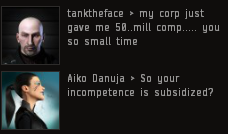 Despite not caring, tank vowed that someone else would extract revenge.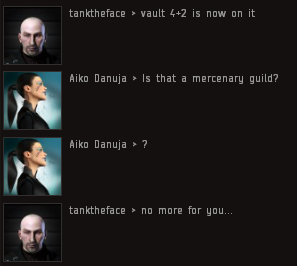 vault 4+2 (aka vault 6) was on the case!
tanktheface > the man it was knows has give me 50mil… and a new order
tanktheface > he on discord now…so mad
Aiko Danuja > He's mad at himself for trusting you?
tanktheface > thats why i get the big isk
tank gloated, sending proof of the incoming attack.
Aiko was alarmed. What if 4+2 actually had a battlecruiser?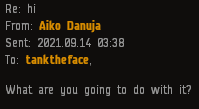 Furthermore, tank had killrights.
The situation was bleak.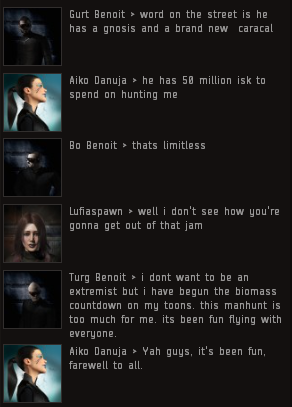 Fortunately, his corporation subsidizes incompetence.
Now we own the Hammer of God.

What an astonishing turn of events!
4+2 is one salty taskforce.
Cordillia denied being a 4+2 agent.

She claimed we are liars, like Biden.
What's wrong with Sleepy Joe?
Meanwhile, Cordillia (the Orca pilot) insisted that she isn't a miner.
I think she might be the liar.
Regardless, she wasn't very calm.
Why was she so angry?
Oh! I guess she is a miner.
Cordillia > You don't know me, i Just returned to this game after 3 years of military duty in Afganistan. Now you want to tell me that I am a MINING Addicted person. WOW have you all fucking lost it
Whadda Badasaz > The issue here is not your service record, but your mining record.
Northbridge West > That went well over there, didn't it?
Cordillia > REPORTED
Cordillia > your all safe at home
Cordillia > hiding under your bed
Cordillia > your so far ass whips to me