Hello, friendos.
It's been awhile, since James 315 died (in real life).
I remember our last night together, when he observed that the wine tasted rather odd, "With a hint of bitter almonds…"
Meanwhile, the alliance endured a cascade failure.
It was awkward, working with a dead CEO.
Would the community survive, or would we shatter?
Last Christmas, I couldn't go on, knowing that grade A losers like Super Perforator and Hrothgar were preening themselves with the glory of actual PvP champions. Fortuitously, heroes like loyalanon, Wolf Soprano, Helicity Boson, and Trump the King praised me. I knew what they meant, the time had come to overthrow the old dead God, who left us to rot in the eternal hell of a stagnant alliance.
At long last, I did what had to be done.
The Conference Elite has always supported me.
To be honest, it's not about James. It never was. The Sheik came long ago, with the blessings of karttoon and the VCBees. Hulkageddon was proclaimed, always! Such wisdom was known to James, and he never claimed otherwise. I'm sure he would understand, and agree, with everything I've done.

The CODE. alliance was created by miners, to sell barges and blasters.
Fucking yikes (nine years later).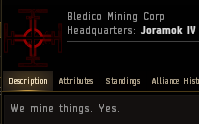 Super Perforator, the trader, scammed the New Order. When I arrived, there were no Catalysts or modules in the hangars of New Order Logistics. There was nothing but cobwebs, and dusty memories.
James did not create the alliance, nor did he lead the alliance. He watched with dismay, as various pretenders flailed about aimlessly, treating the executorship like a trophy. Shenanigans ensued. Fortunately, John E Normus set things straight, transforming a PvRock roleplay alliance into a genuine PvP freight train. Alas, after loyalanon was banned, the alliance never recovered. In desperation, Kalorned gave James control of the alliance, but James wanted nothing to do with a dead alliance. So he summoned me, in 2018, trusting that an elven vampire Princess would know what to do.
Inspired by Sun Tzu and Thomas Jefferson, James believed that a Code should evolve, and worried that roleplaying gankbears would mindlessly enforce the law. What could be worse, than a bunch of sycophants praising ad nauseum — without undocking? James recognized the need for change, but there was one problem.
James died quite suddenly (and deliberately), because a dead libertarian wants nothing to do with a dead alliance. He had no desire to tell others what to do. They could stay, create a new alliance, whatever. Dead men don't concern themselves with such matters. Whoever leads, they are the leader. Of course, James had faith, in a lucky lady.
Some people have been hard on James, arguing that he failed to show leadership. He wouldn't get in comms, accept conversation requests, engage in discussion, or do anything at all. However, that is not his fault. A dead man simply can't.
Fortunately, we've got a better alliance — stronger and more active.
We can do anything we want.
Bee well.