Oh man, this miner got me.
I had a hunch, they've read my blog.
I wonder if I ganked Vily Villy.
Believe it, or not. Some people like the blog.
I'm always happy to hear from my friends.

I also like to hear from my enemies.
They are absolute losers.
I love killing plebs.
I don't gank for isk esk.
Here's a piece of salt.
This is the correct way to get on my blog (hint: I don't like Discord).
Some people get it.
Some people don't!

Here's a random mail from the other grab bag (yes, there's more than one).
I don't have time for this shit.
I'm the best ganker in the history of EvE Online.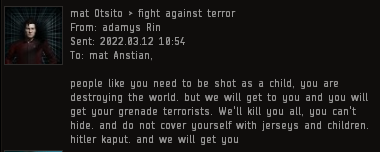 Ok, one more.