After Kalvaen committed suicide (in real life), I returned to Serren.

His fellow Goons were mourning, with a sad mining dirge.

Mongoly led the lamentations.
I wondered why Goon High Command would send miners to die in Highsec.
Plot Twist: Mongoly is a deserter, absent without leave.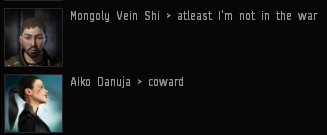 Double Plot Twist: Kalvaen (aka Lulu) didn't commit suicide?!?

Multiple sources indicate Kalvaen and Lulu are the same person.
Apparently, the 'brothers' have a history of suicide roleplay.