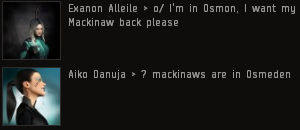 Previously, on Aiko Danuja is the best player in EvE Online blog.
Exanon Alleile searched for a missing Mackinaw.

Eventually, he/she/xie began casting curses.

Subsequently, Damien Oxytocin encountered a raving alt.

Would Princess Aiko be able to resize these screenshots?
Someone is cursing us at length.

Will Jesus Christ travel through a wormhole and save Jita?
Suddenly, the big reveal. Irie Tsero was Exanon all along!

Your choices in EvE Online will have ETERNAL consequences.

What Would James Do?