Destiny Corrupted is bad at screenshots.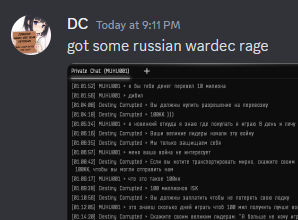 Let's check the logs…
[01:01:52] MUHU001 > я бы тебе денег перевел 10 милиона [01:01:56] MUHU001 > дибил [01:04:08] Destiny Corrupted > Вы должны купить разрешение на перевозку [01:04:18] Destiny Corrupted > 100KK ))) [01:05:34] MUHU001 > я новенкий откуда я знаю где покупать я играю 6 день и лечу откуда начал [01:06:16] Destiny Corrupted > Ваши великие лидеры начали эту войну [01:06:35] Destiny Corrupted > Мы только защищаем себя [01:06:57] MUHU001 > меня ваша война не интересует
Uh…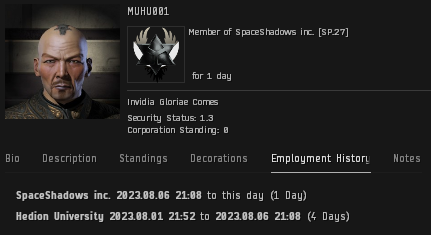 MUHU001 > I'm new how do I know where to buy I play 6 days and fly from where I started
MUHU was just a newbro.
MUHU001 > and what do you want me to raise money for a new powerful ship and also start fighting against you
Destiny Corrupted > A war that is going very badly for you!
MUHU001 > I'm not interested in your war
MUHU was not interested in his own wars.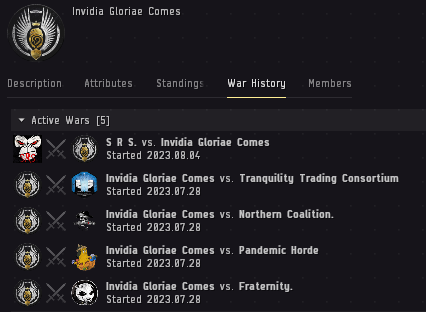 Even when his alliance is the aggressor…
MUHU001 > I'm just upgrading the character
Destiny Corrupted > I'm just doing my job
MUHU001 > that's mean
However, he vowed to fight back against meanies.
MUHU001 > I can also fly on my armagidon and destroy all passing ships and no one else will pour into your system
MUHU001 > I realized only one thing for myself, if I die, I will hunt too and 6 people can join
He promised to hunt Destiny.
MUHU001 > I repeat to you again, we are not all of us beginners on day 6, if it goes on like this, we will start hunting
MUHU001 > and our yel will not be an industry but a bounty hunt

He was serious.
MUHU001 > you are very mistaken if I bought armagidon and other beginners mind enough, believe me, I'm not a child
MUHU001 > how better to ship the ship, you would not rush to your conclusions it can become a boomerang for you
Destiny is finished!
MUHU001 > next time I'll go there to you if I heal, I will destroy and fly not alone but in a group
MUHU001 > you finished the game
MUHU001 > and everyone will know about it you will be outcasts
MUHU001 > a squeak to you and not to seal, you can give normal people just like that
POP QUIZ: How do you say asteroid slave farmers in Russian?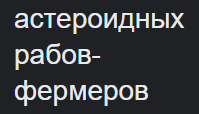 Destiny Corrupted > There is no one in your "group" except asteroid slave farmers
MUHU001 > suck then silently
Destiny Corrupted > Get your whole fleet over here right now
MUHU001 > suck silently I said
MUHU001 > sheep pissed
MUHU was getting excited.
Destiny Corrupted > You talk a lot but do little
MUHU001 > talk less suck more, you will suck
Destiny Corrupted > It will be even more embarrassing when I destroy your entire fleet while I suck
MUHU001 > AAAAAAA SUCK FUCK FUCKING FUCKING
It was a special time.
MUHU001 > FUCK FUCK ME
Destiny Corrupted > Where is the fleet?
MUHU001 > SILENT FURTHER SUCK
MUHU001 > YOU PLAY FOR 14 YEARS AND SUCH FUCK NICESH YOU UNDERSTAND FUCK