Welcome back, Ralliana.
As you can see, I moved the community to Safety.
Frankly, I had a lot of help from Lewak.
James. Friend. You can't go AFK, and let a bottle of booze run your alliance.
So don't blame shift at me. I didn't want this. I loved CODE.

Super cringe.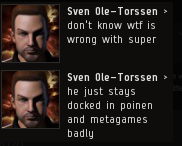 Be careful!
He's literally an idiot, irl, fyi.
However, even Super can see the problem with James.

An AFK saviour is no saviour at all.
He ignored Globby.
He even ignored the #1 PvP champion of all time.
Loyal wasn't bluffing.
James forced a fateful decision.
Sometimes, we need new leadership.
That's right.
Many people say that I am sensational.

Others think I'm just a nice lady.
One thing is crystal clear.
The law is immutable.
Your consent is not required.
Thanks for understanding.
Be well. o7