I'm every miner's fantasy.
They just love me.
Sometimes, their brain melts.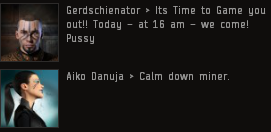 Germans appear particularly susceptible to my charms.
I'm not sure what is wrong with that race.
I suppose their best DNA was lost an der Ostfront.

What?

That's right. Germans never know when to give up.
Are Bavarians even actually people?
Oh well, at least it recognizes a lawful Prinzessin.
A business model, written in blood! Aiko shoots miners who don't want anything other than to enjoy peace and quiet. She is so mean and vile, that one is sometimes left breathless. At long last, does she even know shame? I love mining, because it gives me a feeling of calm. However, she comes along and ruins everything!
What a funny little sauerkraut.