Hi!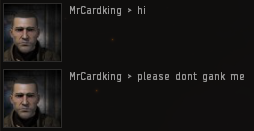 I thought we should have a little chat.

Let me explain something.

I've got some good news.
It doesn't matter if you are a newcrab…
…or if you've encrusted around the block.
We are going to have a real gay time.
This is a war of extermination.
Justice is nigh.

There is nothing you can do.
All miners go to hell.
GF!
It's what they deserve.

Just try and stop me.

Cashmeowside.
Howbowdat?