Multiple independent sources are confirming that CCP has been warning and/or banning people for "pulling" CONCORD. There has been speculation that this was "abnormal" pulling, and not the normal activity practiced routinely by gankers and antigankers for more than a decade. However, my sources have become increasingly clear that CCP is targeting gankers for routine pulling.

For example, the Novus Ordo antigankbears have been antiganking by pulling CONCORD into ice belts, to protect their Russian mining clients. Now it appears that gankers who counterpull are being warned for "delaying" CONCORD by drawing CONCORD out of the belt (because Novus Ordo is reporting them).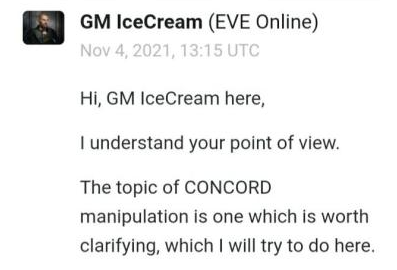 It is true, that pulling affects response times, but for more than a decade this has been normal gameplay. It was specifically allowed.

Are gankers no longer allowed to pull? Perhaps so, but if that is the case, there are going to be some significant changes.
I don't know what to say.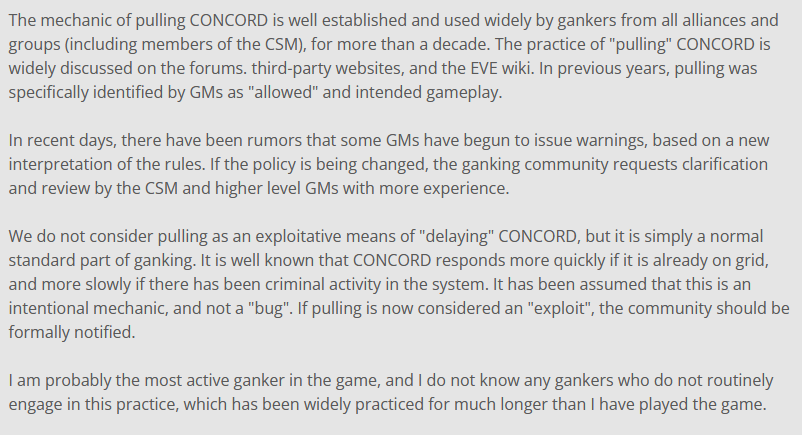 I'll just wait to see if CCP replies to my ticket.
Maybe everything is fine?

Fortunately, GM IceCream states it is ok to manipulate CONCORD to decrease (rather than increase) response times. Instead of pulling CONCORD away from the gate (to make it easier to gank on the gate), just pull CONCORD to the station (in order to make it harder to gank on the station). Problem solved!

Indeed, IceCream claims it is ok to spawn CONCORD in specific situations (provided that you do not intentionally reduce CONCORD response times), but as Jason notes, there is no possible scenario in which you can spawn CONCORD without simultaneously reducing response time elsewhere.