Hello, dear reader.
I'm sure you've all been wondering.
How did I become so awesome and invincible?
Unfortunately, I have terrible news.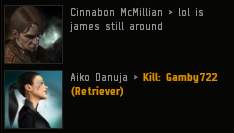 James 315 died, and that is so sad.
Loyal CODE. agents are docked up, AFK forever. That's what Daddy wanted, to have gankers lined up in the mausoleum, entombed with his corpse.
As miners learn in crab school, whilst Ventures nibble the toes of Mike Azariah, James 315 was a godly man who just wanted carebears to maximize their isk/hr. When bots began driving down the price of Veldspar, he started an alliance to fight back. Furthermore, to prevent anarchy, he forced the rabblemongers of Hulkageddon and Jihadswarm to honor the holy permit. James would often pilot a magical Bowhead full of tanky Procurers, handing them out to all the good little miners. Alas, in the darkness, an evil lurked. A nasty little b witch conspired to poison James, and steal the CODE. for herself, and she formed an alliance with lowsec gankers… and other gankers.

I did do it, and I'm proud of myself.
Grrr hat Aiko, hat hat hat.
So now you know the TRUE true.

I can't deny it any longer.

Yes, it is me, Princess Butter Cupcake.
I'm the greatest capsuleer in the history of EvE Online.

Bee well!