The Sokhar Bonus Room changed EvE Online.
This was a real scandal.
Basically, Sokhar was a lucky winner, invited to Erotica 1's sexualized ingame glory hole. After several hours of hard study, whilst reading a Wikipedia history of Saint Olga, Our Lady of Kiev, Sokhar became flustered. He began to feel agitated, and this triggered his wife. Someone, let's call them Justin, might have made an unsympathetic comment about panic attacks. When that didn't go over well, and Sokhar's wife saw that he loved EvE Online more than her, the result was nothing less than a literal meltdown. It's hard to listen to the Sokhar recording, which is why it has been lost to history, but you can't help but feel bad for this poor woman, who clearly didn't enjoy EvE.
There's a lot that could be said, and has been said. An interesting twist is that Sokhar himself insisted no harm was done. However, CSM member Jester the Pleb led a whiteknight crusade for space justice, denouncing Erotica 1 as a predator. He saw Erotica not merely as a video game scammer, but as a real life monster. Ultimately, CCP sided with Sokhar's wife, and perhaps that was best. However, the truth is less complicated. Erotica is not a griefer. He just wants sex (and money).
One day, Erotica 1 asked for my help.
I am not writing this as Aiko Danuja, a character in a video game. I am writing as [REDACTED], a polite lady from the SOUTH SIDE, a young up and comer from the block. One day, this strange man I didn't know, begged me to marry him. He also happened to be Erotica 1.
Although I am a successful journalist in EvE Online, I am also doing well in this world. Sometimes, I just want to focus on real life. Indeed, it is lawful for me to discuss my ex, and his convoluted plans to fuck me (and get rich). So this is about my IRL relationship with Erotica 1.
Erotica made a deliberate decision to repeatedly and proudly reveal his identity to the world, with multiple posts across multiple platforms, all intended to attract attention to himself. I cannot respect Erotica's decision to dox himself, but I will certainly respect his awe inspiring and truly boundless ambition.
He proposed to me, and I accepted (of course). This makes Erotica my real-life ex-fiancé. So please don't begrudge me if I affectionately refer to him as Justin, because that's his name, which he so clearly indicated he wanted to be known by. Of course, I'll do his family the favor of not acknowledging the full name, which places me in full compliance with NATO privacy laws. So ya, we got engaged…
This is a story about a man, a woman, and the fate of the galaxy (in real life). She played EvE Online, and he was permanently banned (for sex crimes in outer space). However, what if he came back?

Along the way, I was guided by George, the CODE. executor who originally taught Erotica how to isk double.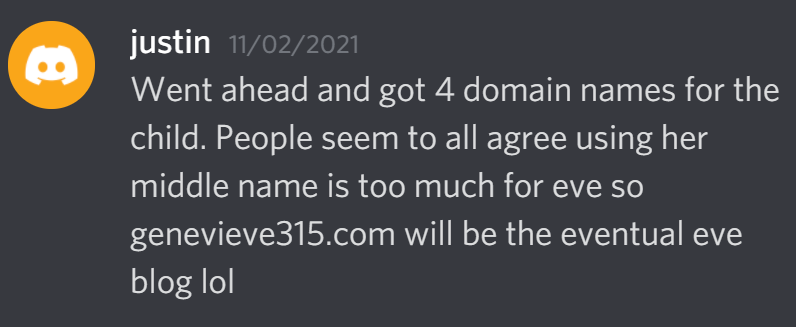 Justin decided to make a blog four blogs. That was in itself problematic, as he claimed to be using the irl name of his infant child.
This would not end well.
On his blogs, Erotica openly came out as a man, who enjoys sex. Furthermore, he vowed to save the Ukraine, as champion of Kiev. Meanwhile, he became CEO of NFT Corporation.
At every opportunity, he gleefully doxxed himself.

Erotica's 'daughter' intended to change the world.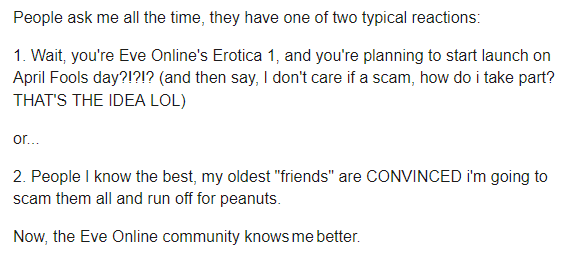 To be continued…